HubSpot released a new suite of data tools in 2022 and there's a lot that coders, programmers, and data professionals can get excited about. HubSpot users now have a ton of new capabilities to help maintain their databases and make better use of their data in HubSpot.
Here's everything you need to know about HubSpot's latest updates to its data suite.
Data Modeling Tools
HubSpot's new data modeling tools make it easy to visualize and understand data. They also make identifying and resolving data errors a simple process, and can even help you identify trends in your data.
Data Model Overview
HubSpot's Data Model Overview is currently in public beta and available to all free and paid Operations Hub customers.
Located under Data Management in the Settings tab, this tool is primarily designed to view all the objects you've created in HubSpot and how they relate to each other. It's especially useful for companies that use a significant number of interconnected custom objects.
The tool features an interface that's easy for anyone to understand as well. This makes it a great resource for presenting information about the health of your database to stakeholders and decision-makers.
Custom Object Builder
Custom objects are one of the most important features released by HubSpot in years. They've effectively made HubSpot an enterprise-level CRM, capable of being applied to a variety of business models.
HubSpot users can already create custom objects. This tool just makes it simpler and more streamlined. The custom object builder is designed for the low-code, non-data user, but it has plenty of performance capability to help you design and tailor objects to your exact specifications.
This feature is currently in public beta.
Data Integrity Tools
HubSpot's data integrity tools are built to ensure "only good data enters your database." They are specifically designed to help you identify and resolve data errors before you import data.
Import Error Handling
HubSpot has improved its data import experience. Instead of having to resolve data issues after an import, the system will identify errors during the import process and prompt you to resolve them before the new data hits your database.
You can resolve issues through the "Map columns in your file to HubSpot properties" screen. The system will identify errors using color-coded icons, then give you an explanation of what type of error has occurred. You can then resolve errors one-by-one manually if they can't be resolved automatically.
If you'd like, you can also review any potential errors after your import is complete as well.
Property Validations
The property validations feature enables you to create and enforce rules for certain properties within this database. Effectively, this feature allows you to say what users can and can't save as a property value.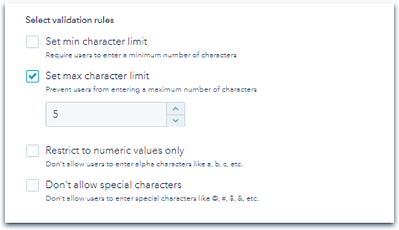 (Source: HubSpot)
This process is made easier using a simple set of checkboxes that turn on rules like character limits, numeric values, and allowances for special characters.
Database Monitoring and Cleaning Tools
HubSpot's database monitoring and cleaning tools are perhaps some of the most exciting features to come out of the most recent set of updates, especially for data professionals. These tools are designed to help you clean up your database—and keep it clean through regular monitoring and automatic notifications.
If you've been struggling with a messy database for months or even years, now is your chance to clean it up.
Data Quality Command Center
Hubspot's Data Quality Command Center is the go-to location in the HubSpot dashboard for data professionals to identify issues with their data. You're going to need "super admin" privileges to use it. It provides a complete overview of how data is stored in HubSpot and highlights potential issues with properties, records, and data sync integrations.
Concerning data sync integrations, the Command Center will tell you which apps aren't syncing properly, or which apps are essentially "off" because they aren't syncing at all. If your organization syncs data from a significant number of apps, this is a great diagnostic tool that could save you a lot of time and trouble.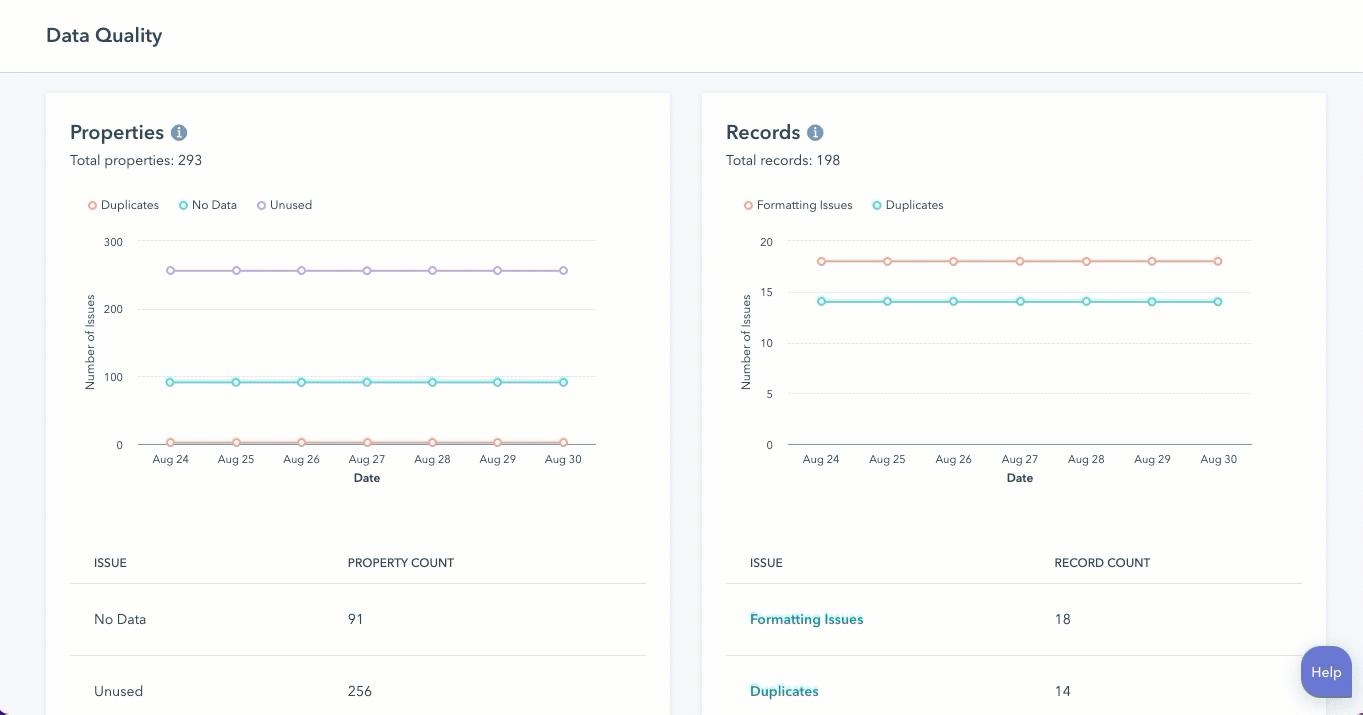 (Source: HubSpot)
Information about the following properties and data errors will be featured in this tool:
Properties

No data
Unused
Duplicates

Records

Formatting issues
Duplicates

Data Sync

Apps with sync failures
Apps with no active syncs
Importantly, the Data Quality Command center also uses analytics to help you identify trends. You can generate trend reports for each of the properties featured above. This allows you to identify ongoing issues with your data, such as if one of your apps has consistent syncing problems.
Data Quality Automation Recommendations
This feature is relatively straightforward. HubSpot will use AI to automatically generate rules for fixing formatting issues in your CRM properties, such as issues with capitalization and spacing. It removes at least some of the manual work of fixing data errors.
Once you accept the suggestions and enable automation, the rules will be applied to the database and will work on all incoming data. As HubSpot puts it, "Your database practically cleans itself."
Data Sync Improvements
Finally, HubSpot has implemented a series of data sync improvements to identify, resolve, and prevent synching issues more effectively.
When you connect an app through the HubSpot App Marketplace and turn on data sync, you'll be prompted with a few questions regarding sync direction and data flow. You can also customize your field mappings (if you are an Operations Hub user).
For example, if your third-party app lists "Account Name" as a field for the names of companies, you can map it to "Company Name" in HubSpot to avoid syncing issues.
Naturally, you can also create sync rules, such as only syncing contacts with inputs on certain properties, and you can ensure HubSpot maintains associations for records during the syncing process. You can also use HubSpot's sync health feature to run diagnostics on records syncing between HubSpot and other apps.
This allows you to monitor ongoing synchronization efforts and identify issues early, so they don't have to be corrected later.
Build a Better Data Management Program with HubSpot's Data Suite
HubSpot originally started as a marketing CRM, but it has since become one of the most prominent solutions for enterprise data operations. It has plenty of powerful tools for advanced data users, but it's also an ideal solution for low-code, non-data users who need to be able to understand how data is stored and managed in their system.
To learn more about how you can leverage HubSpot's data capabilities, contact us at Aptitude 8 today.