We've explored HubSpot's Custom Object features in other articles. HubSpot recently released a new feature in their CRM that allows users who aren't familiar with coding or API processes to create Custom Objects. All you have to do now is click a friendly "Create Custom Object" button and fill out a form.

But another new feature worth exploring is HubSpot's Data Model Overview beta. This feature hasn't received as much attention as others, so we're going to explore what we know about the beta release.
What is the Data Model Overview?
The Data Model Overview beta is located under Data Management in the Settings tab in your HubSpot account. Once you opt into the beta, you can click on this tab to activate it.

The key benefit of the Data Model Overview is that it gives you a clear view of all the objects you've created in HubSpot. HubSpot specifically says that it "represents the way you store and structure data in HubSpot," and that it "impacts how you import, view, automate, and report on your data."

Perhaps more importantly, it allows you to see how those objects are associated with each other.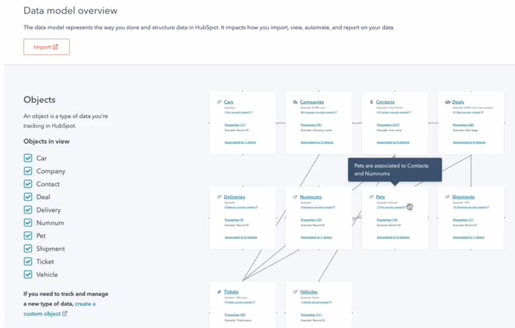 (Source: Kyle Jepson on LinkedIn)

For example, you can see how many other objects are associated with your Contacts object. This gives you a good idea of how important that object is to your business, as well as a clearer understanding of how changes and additions to it can impact your other workflows.

Each object card lists the total number of records of each object, the total number of properties associated with each object, and the total number of other objects it's associated with.

You can use the checkboxes on the left-hand side to turn specific objects "on" and "off" in the model. This is especially useful if you need to better understand how some objects relate to others. It's also an important feature for companies that use a significant number of custom objects in their HubSpot CRMs.
A Big Benefit for Visualization and Low-Code Users
As you can imagine, this feature will be a huge benefit for data visualization. It also further entrenches HubSpot as an enterprise-level CRM. Large companies with enormous data sets can use this feature to gain a much clearer understanding of how their data is represented in HubSpot.

The visualization aspect makes the Data Model Overview an ideal tool for decision-makers.

But it will also be an important feature for low-code users who couldn't otherwise gain a clear understanding of how their CRM was recording and storing data. For example, marketers need to understand how each object works in the system and their workflows, but they might not have a clear understanding of all the objects in the database without a tool such as this, especially if they aren't well-versed in APIs or other tools.
Get a Better Understanding of Your HubSpot Data
Like custom objects in general, the Data Model Overview beta is only available to HubSpot Enterprise users. But if you're an Enterprise user, it could be a very useful tool in your tool belt.
To learn more about what this and other HubSpot tools can do for your business, contact us at Aptitude 8 today.