Managing the quality of your company's data can be a huge challenge if you don't have full visibility into your database.

Most organizations have at least some objects in their CRMs that are missing important properties or have incorrect ones. According to one study of over 1,000 global executives, about 8 in 10 businesses struggle with data quality. When this happens, it can cause problems with your workflows or lead to missed opportunities.

Thankfully, HubSpot has created a tool that shows HubSpot users exactly how their data is being recorded and where they have gaps. Here's what you need to know about HubSpot's Data Quality Command Center, which is currently in beta.
What HubSpot's Data Quality Command Center Does
HubSpot's Data Quality Command Center is for Professional and Enterprise users of HubSpot's Operations Hub. You need to be a user with super admin permissions to opt into the Data Quality Command Center beta and to gain access to its functionality.

At its core, the Command Center is a tool for evaluating possible issues with your properties, records, and data synchronization integrations. It allows you to identify common issues, such as properties with no data, unused properties, duplicate properties, data formatting issues, and more.
The Core Components of the Data Quality Command Center
There are three key displays in the Command Center. Each allows you to identify and monitor issues with your data. Currently, they only monitor data associated with contact and company records.

The displays are Properties, Records, and Data Sync.
Properties:
The Command Center will show you the total number of contact and company properties in your account, as well as a daily report for any trending property issues. The trend report will give you a better idea of how often incorrect or missing properties appear in your database.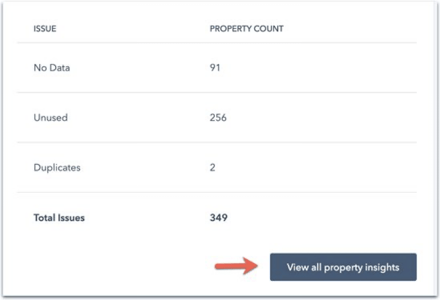 (Source: HubSpot)

More importantly, this display will show you how many properties HubSpot has identified as having issues. The three issues the system checks for are:

No data: empty or incomplete values for the property.
Unused: properties that exist but aren't used in any HubSpot tools.
Duplicates: properties that are similar or identical to other properties.

You can use this information to correct problems with your property data and identify the trends that are causing them to happen.

You can click on the "View all property insights" button to get more information about the data that is problematic. You can even search for specific properties and sort problematic properties using identifiers like name, issue, and in what tools they are currently used.
Records:
Like the properties display, the records display shows you the total number of contact and company records in your account as well as a trend report. It will also show you any issues associated with this data.

These issues include:

Formatting issues: incorrectly formatted records, such as un-capitalized names.
Duplicates: records that are similar or identical to each other, such as if you have the same contact listed twice in your database.

Data Sync:
Finally, the Command Center will show you the total number of connected data synchronization apps you're using, providing you with a daily report of sync issues, and list the apps that HubSpot has identified as problematic.

You'll see quick reporting about the following issues:

Apps with sync failures: connected and activated apps that are not syncing.
Apps with no active syncs: apps that aren't syncing either because they are disconnected, syncs are paused, sync hasn't been activated, or sync hasn't been set up at all.

You can also click on "View all Data Sync insights" to view more information about the problematic apps connected to your system.
Get Your Data in Order with HubSpot
This is only the beginning of HubSpot's Data Command Center. You can expect updates in the future, especially as the app rolls out of beta. If you're an Operations Hub user and data is an important part of your business, you should consider opting into the beta.

To learn more about what the Data Quality Command Center can do for you, contact Aptitude 8 today.