If you're struggling with a mundane email marketing strategy that doesn't yield results, it may be time to start using programmable emails. Programmable emails reduce manual processes, and they can be designed to engage recipients with relevant content at critical points in their customer journey.
Here, we'll explore how programmable emails work in HubSpot, and we'll provide some examples of programmable emails to help you get started.
Making Programmable Emails
Programmable email tools allow you to create dynamic emails that change based on customer behavior and other triggers. This makes your emails much more personal and relevant. Most importantly, programmable emails rely on logic and data within your database to populate themselves with content and send automatically at relevant times.
For example, if someone visits your ecommerce website and fills up their cart, but doesn't make a purchase, you can set up an automated email to be sent out after 24 hours. That email could remind them of the products or services they were interested in, or it could provide them with an incentive, such as a discount, for completing their purchase.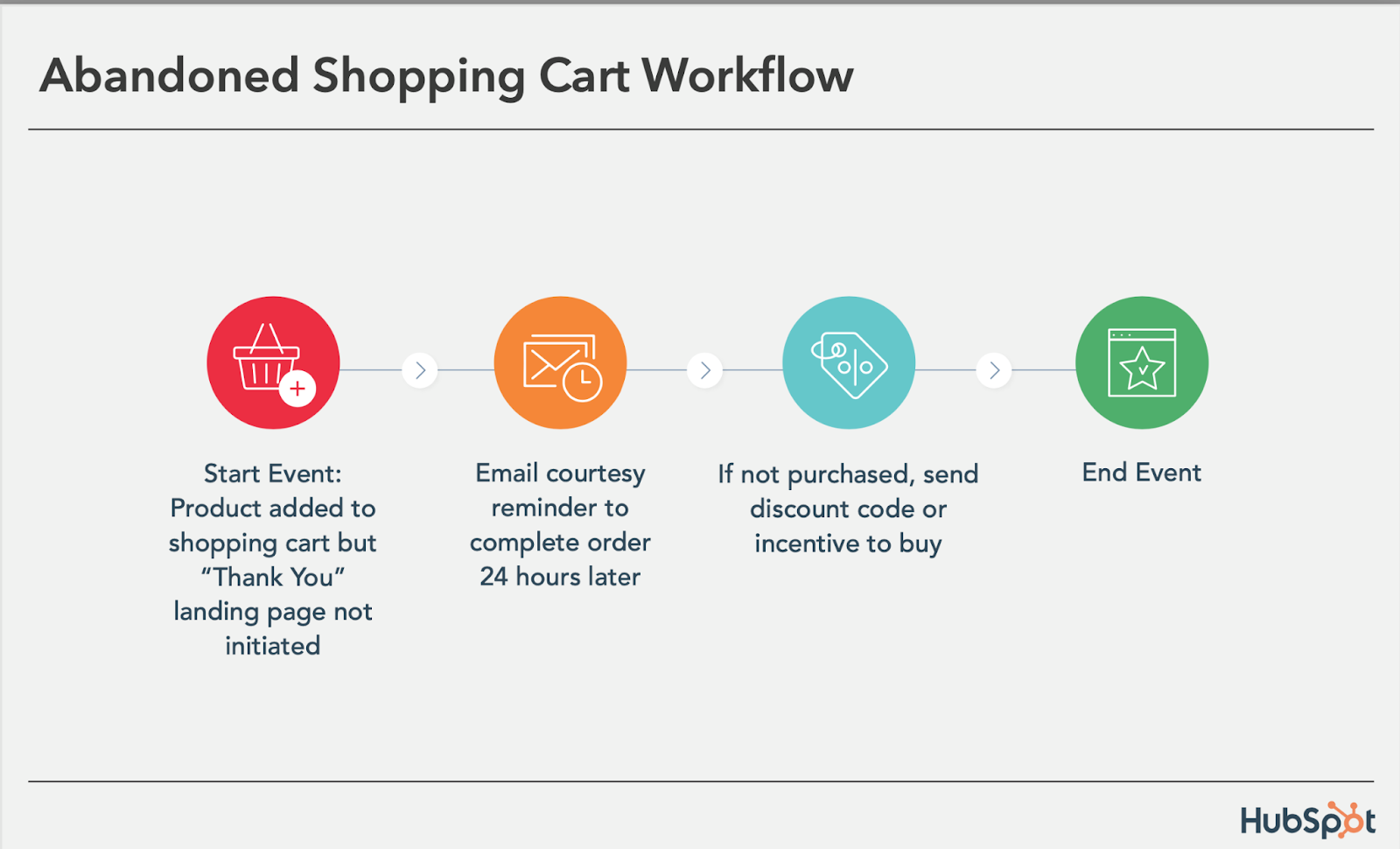 (Source: HubSpot)
In this way, programmed emails can increase engagement, responsiveness, and the overall customer experience.
If you're a HubSpot user, you already have programmable automation available at your fingertips in HubSpot Marketing Hub. You can set up triggers and rules to create workflows that will send out emails at specific times or when certain conditions are met.
You can even use HubSpot's smart content to ensure your automated email content is personalized and relevant to the sender. HubSpot's smart rules are available for use in the following categories:
Ad source—based on the ad the contact clicked.
Country—based on the contact's country.
Device type—based on the device the contact used to visit your site (e.g., a smartphone).
Referral source—based on how they found or were routed to your site.
Preferred language—based on the language set within the contact's browser.
Contact list membership—based on the specific HubSpot list the contact is a member of.
Lifecycle stage—based on the contact's Lifecycle stage property value in HubSpot.
Query parameter—based on the query parameters in the visitor's page URL (e.g., a UTM code).
By allowing users to create dynamic emails based on triggers of their choice, HubSpot's programmable email platform provides marketers with an easy way to increase conversions and build relationships with current customers while simultaneously engaging potential new ones—all without having to spend hours manually crafting individualized messages each day.
Programmable Email Ideas
Now that you know how to create programmable emails, here are five ideas for making dynamic emails based on triggers:
1. Automated Thank You Email
Automatic thank-you emails are triggered when a customer takes a desired action, such as completing an order or signing up for your email list. Emails can be programmed to send at the time of the trigger or some specific amount of time after that.
The content should be personalized and relevant to show appreciation for their actions. You can also include incentives or upsells in the automatic thank-you email if it is appropriate to do so. For example, you could offer customers an additional discount if they make their next purchase within 24 hours of receiving the thank-you email.
Automatically sending a thank-you note helps reinforce customer loyalty by showing them that you value their business and appreciate their support.
2. New Customer Onboarding Email
New customer onboarding emails are automated emails that are sent to customers who have recently signed up for your product or service. These emails are designed to help familiarize customers with your brand, introduce them to your product or service, and provide them with resources to help them get started.
To program a new customer onboarding email, use logic and data within your database to populate the email with content and send it automatically at a relevant time. For example, you can set up an automated email to be sent immediately after a customer signs up for your product or service, or you can schedule the email to be sent after a time if they've been inactive after signing up.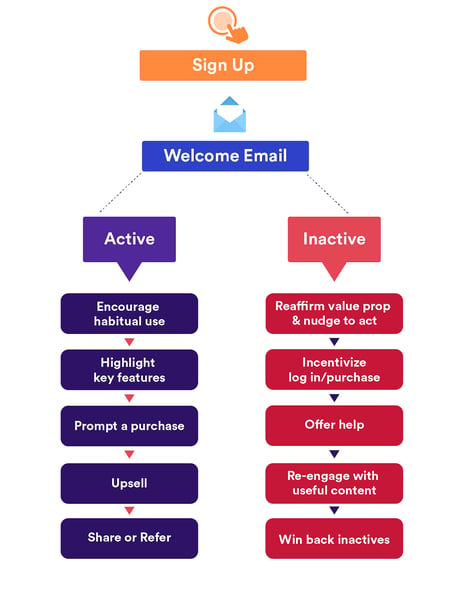 (Source: HubSpot)
The content of your new customer onboarding email should be relevant to the customer's needs. You can include information about your company, the benefits of your product or service, and any helpful resources that can assist the customer in getting started.
Consider breaking up the content of your new customer onboarding email into multiple sections or steps to make it easier for the customer to follow. You can also include calls-to-action that encourage the customer to take specific actions, such as completing a profile or setting up their account.
3. Customer Experience Survey Email
Customer experience survey emails are one of the most effective ways to gather feedback from customers and improve the overall customer experience.
These emails can be sent at almost any time, but you could set up a trigger to send them at certain points of the customer lifecycle, such as after they've made a purchase, or after a set time in which the recipient has been a customer. The content of the email should be personalized and relevant, and it should encourage the customer to provide honest feedback about their experience.
When crafting a customer experience survey email, it's important to keep the following points in mind:
Keep the survey short and to the point.
Offer an incentive, such as a gift card.
Use a mix of question types, such as multiple-choice, open-ended, and rating scale questions.
Follow up with customers with an automated email to let them know that you've taken their feedback into account.
4. Lead Nurturing Sequences
Lead nurturing email sequences are an effective way to keep your potential customer engaged and informed about your brand. These sequences are a series of automated emails that are designed to provide contacts with relevant information or to encourage them to take specific actions, such as opening an account or making a purchase.
Each email in the sequence should build on the previous email and provide your contact with important information that will be useful in their interactions with your brand.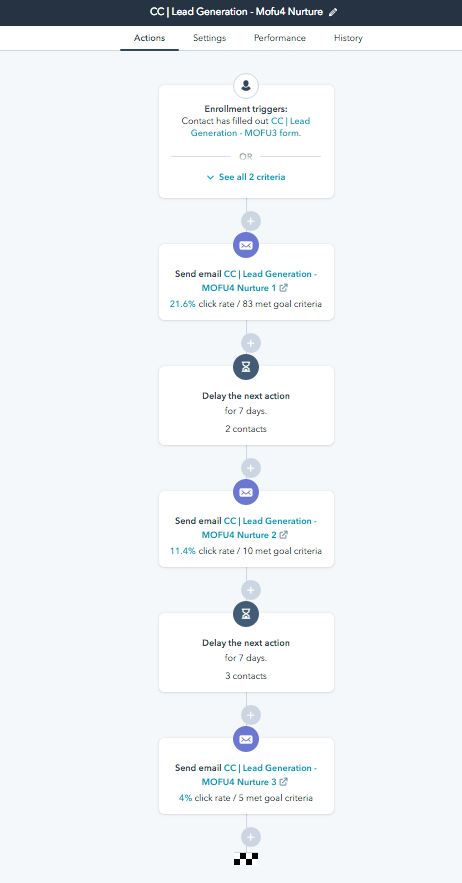 (Source: HubSpot)
For example, your first email in the sequence could thank the contact for engaging with your brand and provide some additional information about your company and products. The second email could provide some helpful content, while the third email could offer an exclusive piece of content or a promotion.
5. Account Renewal Email
An account renewal email is a relatively simple email that reminds an existing customer that their subscription or service account is ready to be renewed. It's also an opportunity to thank them for their continued loyalty and encourage them to purchase additional features, upgrade, or refer a friend.
Data such as how long they have been a customer, their renewal date, and any relevant usage or activity information can be useful in providing them with insights and encouragement. Ideally, you'll be able to show them how valuable your service has been and how much they can gain by continuing their subscription.
In addition to reminding them about their renewal, you can also offer an incentive for renewing early, such as a discount or exclusive offer. This can help to increase customer loyalty and drive retention.
Start Sending Programmable Emails Today
The possibilities for programmable emails are almost limitless. If you're a HubSpot user, you have access to powerful tools, such as workflow logic, smart content, and a comprehensive HTML email-building tool.
Regardless of how you choose to implement programmable emails, it's important to keep in mind that each email should be tailored to the customer's needs, interests, and preferences. To get more ideas for programmable emails, contact us at Aptitude 8.