One of the key benefits of the HubSpot platform is that it's constantly being updated with powerful new features. HubSpot posts regular product updates on an almost monthly basis, and many of its biggest updates empower customers with features they can't find on other platforms.

Recently, we explained how HubSpot's custom objects allow you to create unique CRM objects that help with the personalization of emails. Here, we're going to explore how HubSpot programmable automation can make emails and workflows more powerful and streamlined.
Program Your Emails to Be Dynamic and Personalized
Standard HubSpot workflows are awesome for every user—even no-code users. That's because they have point-and-click logic that's easy to understand. You can use this logic to decide which users get which emails, and you can leverage email templates to build a unique email for each branch.

But for some use cases, the personalization and dynamic content you need to deliver may be far more complex than a simple logic branch can deliver. You may also need to scale this personalization up far beyond what can be managed manually.

In those situations, programmable email is a great solution.

Programmable email allows you to build emails using code that leverages dynamic content based on the recipient's contact record. This way, you can build an email that automatically includes images of the last products they viewed on your website or, if you're a real estate business, perhaps the properties you recently listed that match their preferences.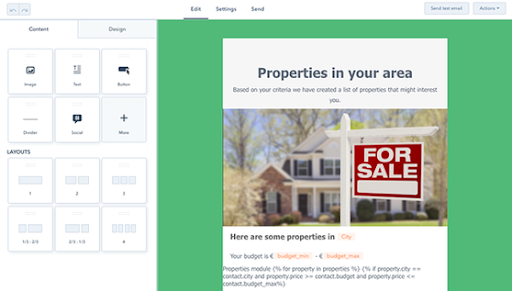 (Source: HubSpot)
The email will dynamically update based on who it's being sent to.
An easy example to consider comes from "Big Box" home goods brands like Crate & Barrel or West Elm. If you've ever been to their websites and viewed a product like a nightstand, you've probably received emails from them containing contextual offers for other nightstands, or dressers from the same collection. Companies like these use complex rules to populate their emails, including offers for not only the nightstand but also other items in the same category.

HubSpot's programmable email option helps you deliver that experience to your prospects and customers without needing custom-built technology solutions. If you store the data inside of HubSpot or an external system, you can use programmable email to fetch this data and enrich the email before sending it.

This is especially powerful if you want to use programmable email to populate personalization based on the product or behavioral data you store inside of HubSpot. You can also use any tracking code data you have available to contextualize your emails automatically.

Deliver Personalization at Scale
Like other HubSpot features, programmable email helps you eliminate a lot of cumbersome manual processes. This opens new possibilities for your email campaigns, especially in terms of volume.

Programmable email lets you deliver personalization at a massive scale. By investing now, you can ensure that all your future emails are hyper-personalized and reduce administrative and operational overhead in the process.

Overall, this will reduce your marketing operations costs. If you find yourself constantly needing to build new templates for new email segments, and if your personalization is based on data you can aggregate, you're likely a good candidate for programmable emails.
Learn More About HubSpot's Programmable Automation
Programmable emails are just one aspect of HubSpot's programmable automation features. There are many more to consider. You can create programmable automation for almost any business process. And even if you don't have programmers on staff, there's still plenty you can do with HubSpot's no-code and low-code features.
To learn more about HubSpot's programmable automation features, contact us today.