HubSpot released a new suite of data tools in 2022. Naturally, coders, programmers, and data professionals are excited because they have a ton of new capabilities to help maintain their databases and make better use of their data in HubSpot.
But what does the release mean for low-code and non-data users?
In typical HubSpot fashion, there are still plenty of capabilities available for non-data users thanks to HubSpot's easy-to-use interface. Here's what HubSpot's new data suite can do for you, even if you aren't a data professional.
Data Modeling Tools
Data modeling is a method of creating a simplified diagram of data elements in a system, such as a database. Models are typically generated by software programs, which generate visual representations of data that are easy for anyone to understand.
For this reason, HubSpot's new data modeling tools are a welcome addition for non-data professionals.
Data Model Overview
HubSpot's Data Model Overview is a "learning and planning" tool that helps users understand the data stored in their HubSpot database. This is likely one of the most exciting tools for non-data users, as it allows them to gain a better understanding of what data exists, how it's being managed, and how it's being used.
Non-data users can use this tool to see how all the objects in their database are associated with each other. This is critical for building workflows and assessing how changes to the database could impact your HubSpot-powered processes.
Custom Object Builder
We've explored HubSpot's Custom Object Builder at length in previous blog posts. But we also consider it "the single most important feature HubSpot has ever released," so it bears mentioning here.
A custom object is a database object that stores and structures almost any type of data in HubSpot. Previously, users were restricted to only four types of objects:
Contacts
Companies
Deals
Tickets
For the non-data user, building custom objects might seem like a challenging prospect. But HubSpot makes the process easy using its familiar interface and drag-and-drop mechanics.
You can create a custom object for almost any type of data you need, depending on your business. For example, if your company sells cars, you can create a custom object for individual vehicles. This allows you to track related information on almost any aspect of your business.
Data Integrity Tools
HubSpot's data integrity tools are designed to ensure data is clean before it enters your system and starts being used. As you can imagine, data integrity is a technical process that most companies wouldn't delegate to a non-data professional.
Still, HubSpot makes its tools easy to use and understand.
Import Error Handling
HubSpot's Import Error Handling represents an upgrade to its data import experience. It allows users to discover and fix data errors before data enters the CRM. This feature is already live and available to Operations Hub customers.
When you engage in a data import, your dashboard will display indicators of new records, updated records, and new associations, but it will also tell you how many errors were found in the import. Data import errors can include issues like failed validations, invalid domains, invalid emails, and more.
Before you complete an import, HubSpot will prompt you if there are errors. Errors can be resolved from the Map columns from the "Map columns in your file to contact properties" screen: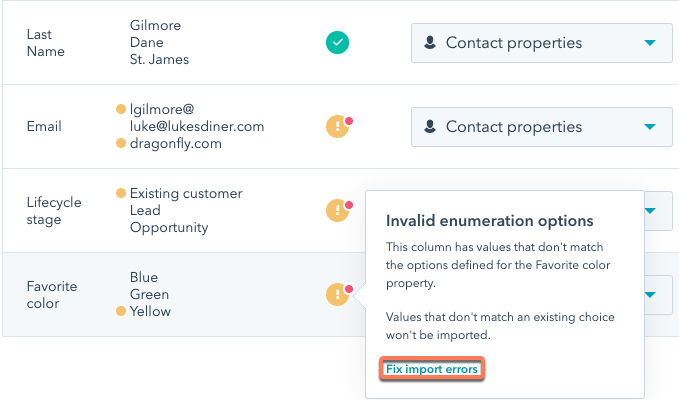 (Source: HubSpot)
The exclamation points indicate an error. Simply select them, then click "Fix import errors," and you'll see a right-side panel with more details about the error. From here, you can edit the property directly to resolve the issue.
Property Validations
This tool enables users to create and enforce rules for specific properties. It effectively sets what users can and can't set as a property value.
For data leaders at your company, this is an important tool for data governance. Non-data users may not get much use out of this tool, as it sets data governance rules that impact the entire company. Still,
Database Monitoring and Cleaning Tools
Finally, HubSpot has released a set of database monitoring and cleaning tools. These tools are likely to be the purview of data professionals at your company, but they are worth exploring for the non-data user.
Data Quality Command Center
HubSpot's Data Quality Command Center is for Professional and Enterprise users of HubSpot's Operations Hub. You must have "super admin" permissions to gain access to its functionality.
This tool provides a bird's-eye view of the health of your database, providing clear indicators of where data errors exist. It will show you which properties in your database has issues like no data, unused data, or duplicate data.
The tool also provides a "View all property insights" feature which shows you high-level trends that are causing issues to happen in your database. This is a great starting point for developing a plan to clean your database or prevent data errors from happening in the first place.
Data Quality Automation Recommendations
This a promising new feature for non-data users, as it eliminates much of the manual burden of fixing data errors.
HubSpot will now provide users with recommendations for fixing data automatically. Using artificial intelligence, HubSpot will identify formatting errors like capitalization and spacing within CRM properties. It will then provide prompts for the user to accept suggested fixes.
All a user must do is accept the suggestions, and HubSpot will do the rest. It's that simple.
Data Sync Improvements
If you're synchronizing data from separate databases, it can be a real headache to resolve errors. HubSpot's new data sync improvements help users identify syncing issues quickly, so there aren't as many manual processes involved in resolving them.
Nonetheless, resolving these issues may require some experience with data, as managing a data merge or synchronization can be a high-level process.
Get A Better Handle on Your Data with HubSpot's Data Suite
Everyone at your company relies on data. It's essential for powering your marketing, sales, and customer service activities. Even if you're a non-data HubSpot user, there's a lot to love from HubSpot's latest data suite update.
To learn more about how you can better manage your data in HubSpot, contact us at Aptitude 8 today.