Table of Contents
---
How can professional services benefit from a CRM?
Professional services companies are unique in that there is frequent direct contact with every customer. That means your Customer Relationship Management (CRM) platform is vital to the success of your business.
A well-implemented, integrated, and optimized CRM can bring efficiency and polish to your services team, and help your marketing and sales teams close more deals.
4 ways you can use HubSpot for professional services
There are many different ways that HubSpot can help take your professional services team to the next level. Let's take a look at a few of the tools that you can use!
01 Customize your data model with custom objects
Professional services organizations have a wide variety of delivery models, and HubSpot's standard set of objects (Contacts, Companies, Tickets, and Deals) may not be enough to effectively manage the types of work you deliver.

With any Enterprise Hub, you can access Custom Objects. These allow you to expand your data model to include other aspects of your business. In the chart below, you can see that we've added projects, retainers, delivery teams, and delivery team members as custom objects.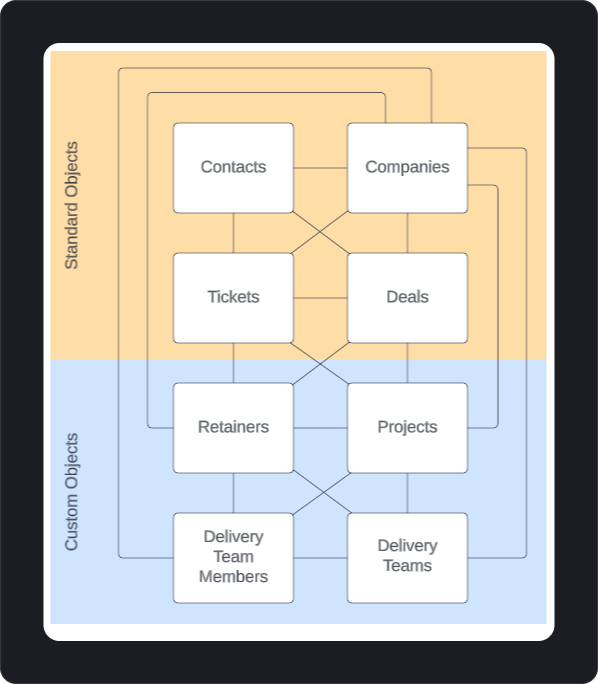 In this example, Projects and Retainers are distinct from Deals, which track the sales process leading up to a Project or Retainer. The Project object could hold important information such as Kickoff Date, Target Completion Date, Actual Completion Date, or Project Budget. The Retainer object might be slightly different, with properties like Renewal Date, Monthly Hours Budget, and Overage.

You can even set up pipelines for custom objects to track the stages of a project or retainer as it's being delivered.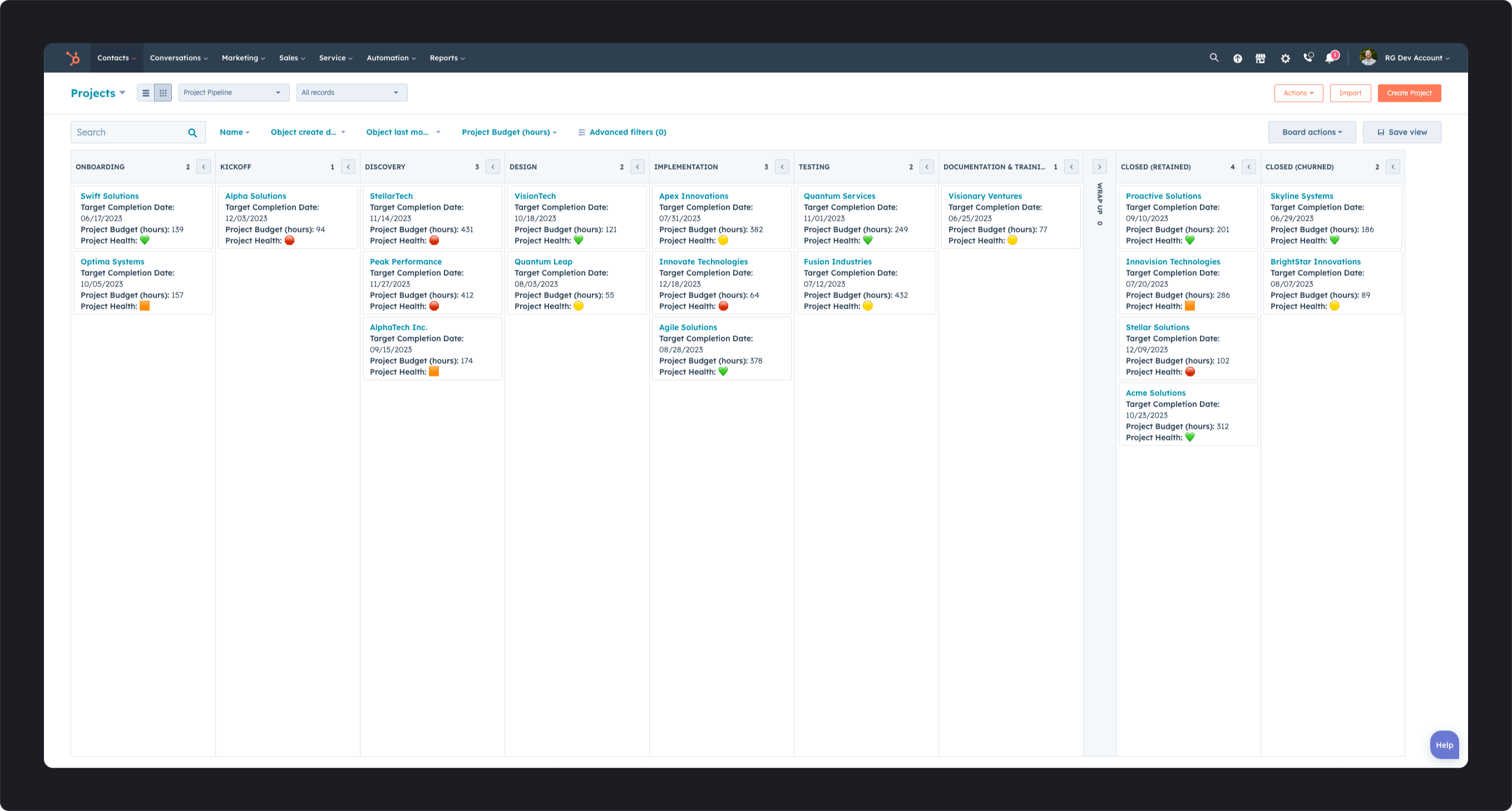 Projects and Retainers are associated with both the deal and the company as well as the Delivery Teams and Delivery Team Members custom objects.

The Delivery Teams object allows you to organize your service employees into distinct groups to be assigned to projects together. It could include properties related to capacity, such as Active Project Count, or performance, such as Client NPS Score.

Meanwhile, Delivery Team Members gives you a record distinct from contacts in which to store information related to your service employees. You could include properties for Hourly Rate to help calculate margins on projects or capture skill sets such as Technology Experience with a checklist of tools they are competent with.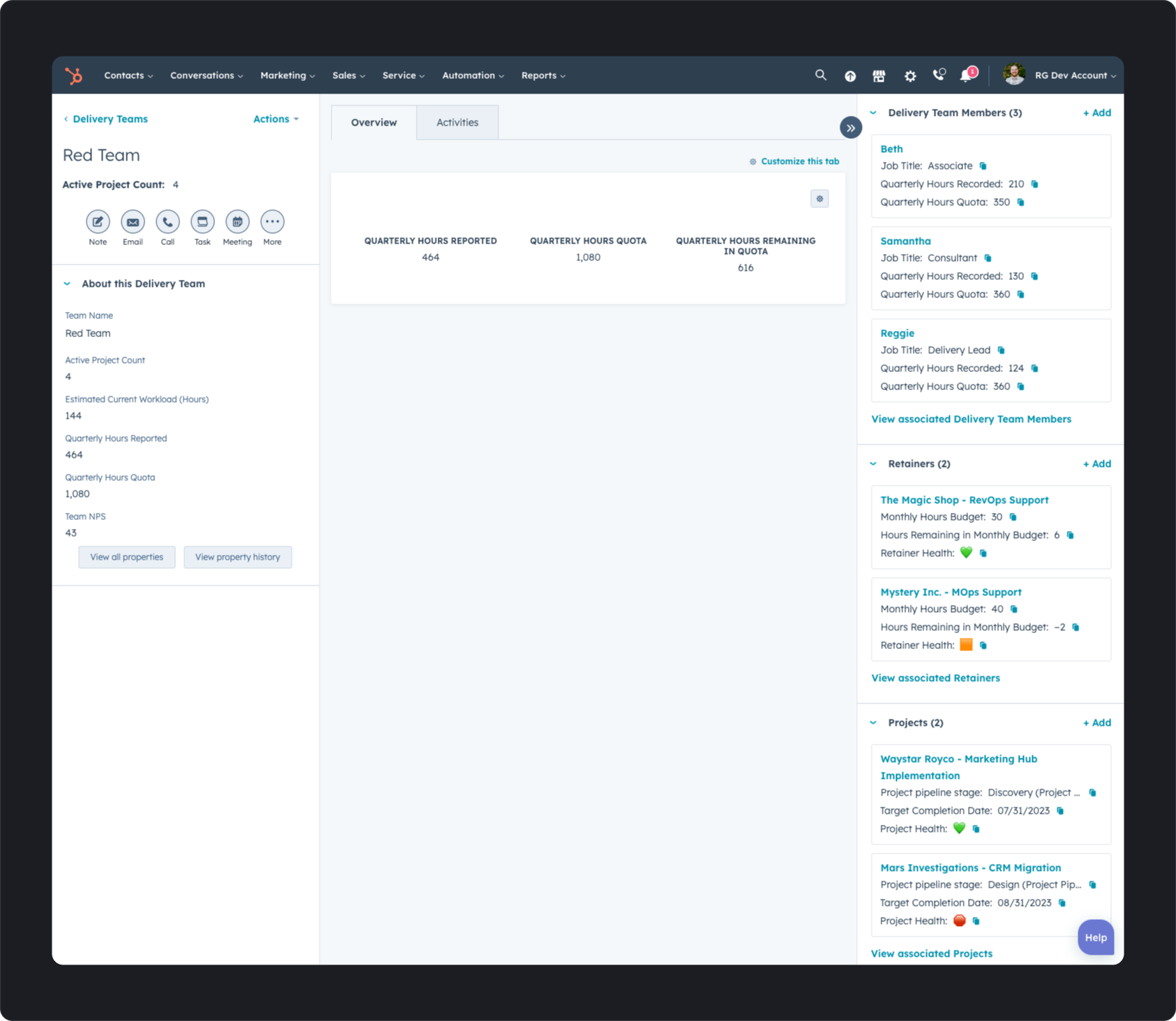 You can automatically associate these records and do advanced automation using Custom Coded Actions or apps like Associ8.

For example, one of our consultants created some custom code to automatically associate Project Team Members to a company when a Project Team was assigned. Check it out below:
This is just one example of how you can customize HubSpot for professional services. Every company is going to have different needs, but HubSpot offers a high level of customization to make it fit your business.
02 Streamline the Sales-To-Service Handoff with an Integrated Project Management Tool

Professional services companies use a wide variety of tools, from ERPs like Netsuite to client communication tools like Slack. But, if there is one tool that a professional services delivery team lives and dies with, it's project management software.

There are many reasons why you would want your project management tool integrated with HubSpot, including reporting on project delivery and managing the capacity of your team, but perhaps the most common pain point it solves is streamlining the sales-to-service handoff.

Most popular project management tools have some level of integration with HubSpot, including ClickUp, Monday, Asana, Airtable, and Trello. In order to demonstrate how an integration could work, we'll be using ClickUp.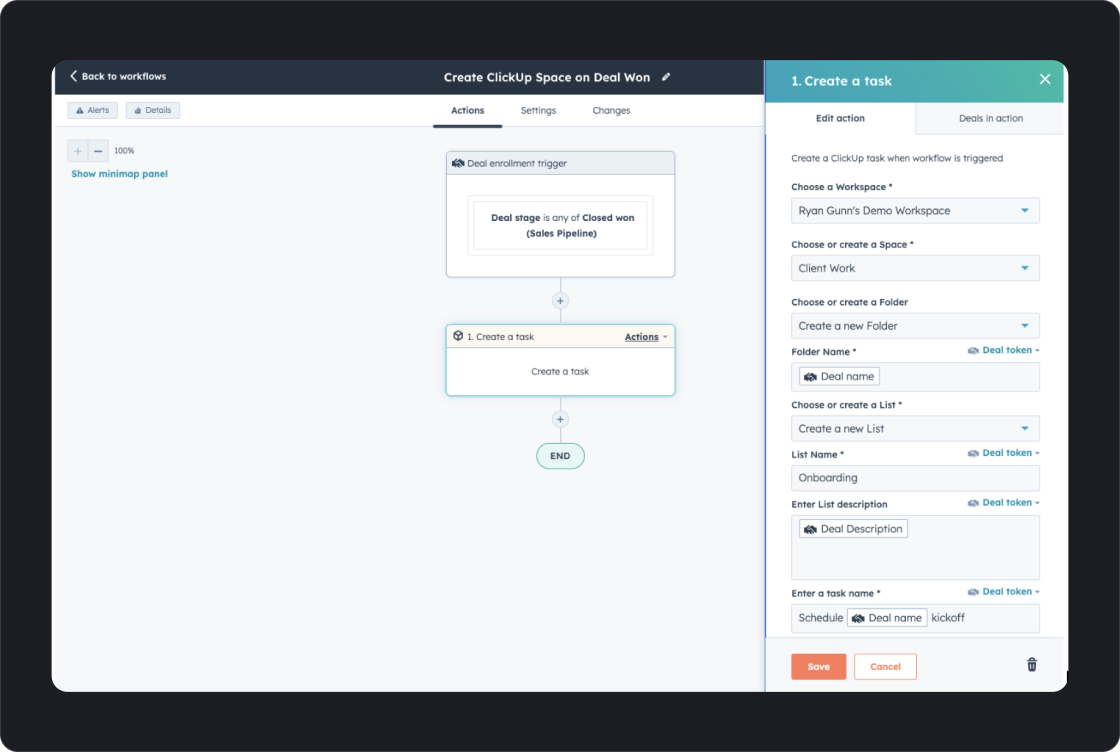 With a simple HubSpot workflow, you can instantly create and populate a client space in ClickUp. The integration allows you to create spaces, folders, lists, and tasks in ClickUp based on triggers in HubSpot. So, when a deal is marked Closed Won by your sales team, your service team can instantly begin the onboarding process.

You can customize those ClickUp items using any data stored on the HubSpot Deal record.
Going back to our previous example, if your company delivers a combination of projects and retainers and you capture which one is being sold in a Deal property, you could create branching logic in a workflow to create a different set of tasks for each.
Using the same concept, you could use a separate HubSpot Deals pipeline for recruiting and then use the ClickUp integration to automatically create a 30-60-90 task list to get your service employees onboarded and billable faster.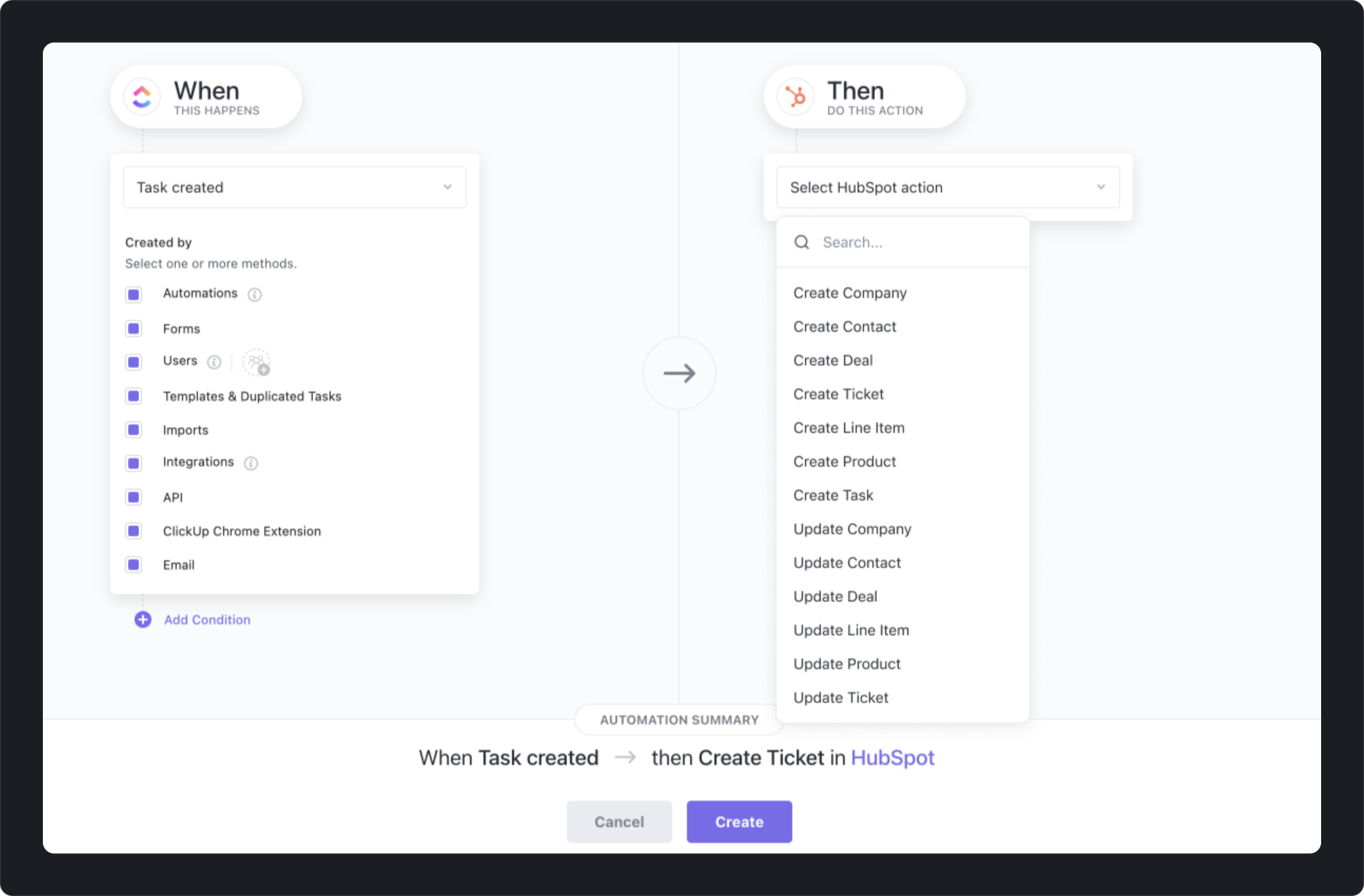 The potential for automation does not end there. Within ClickUp, you can build automation to send data back into HubSpot, based on status changes, task completion, or a number of other options.
03 Collaborate with Clients through CMS Client Portals

Lack of visibility into the work being done is a huge pain point among clients of professional services companies.

Giving your clients a view into what is happening and providing a dedicated space to collaborate with them can go a long way to increasing satisfaction, simplifying workstreams, and accelerating delivery.
HubSpot's CMS Hub has two features that allow you to create robust client portals:
>
CRM-powered web page content so you can share CRM data without giving clients access to your HubSpot.
>
Password-protected website pages so that you can share sensitive information with the client and only the client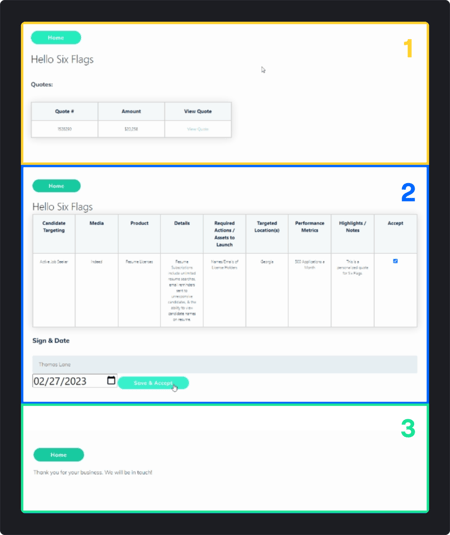 For example: We created a client portal using CMS Hub that allows clients to accept or reject quotes that the services provider submits. Rather than sending separate emails or DocuSigns every time a new quote is created, the client can log into a single portal and see all of the available quotes and click into them to review, accept, and sign.
A client portal could also be used as a central repository for client documents and deliverables, show billings, and view historical quotes and contracts.
04 Act on Client Feedback with Survey Automation
Net Promoter Score (NPS) and other feedback surveys are effective ways to measure customer satisfaction. But many companies don't conduct client satisfaction surveys because 1) they don't have an automated process for sending them at the right time and 2) they don't have an automated process for acting on the responses.

Luckily, HubSpot's Service Hub includes NPS survey automation that can solve both of these problems.

The survey builder allows you to send surveys at exactly the right moment using custom recipient criteria. The default NPS recipient criteria is "Became a customer date is more than 30 days ago," but you can use the "Start from scratch" option to customize your criteria.
That way, you know you are hitting your customer at the right moment, such as when the associated Project changes pipeline stages from Design to Implementation. You can create multiple surveys to send at various critical points during a project or, you can send recurring surveys, which would make sense for a retainer model.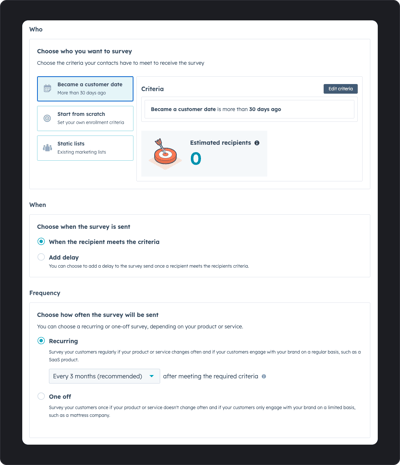 After the surveys are sent and you begin receiving feedback, you can automatically take action based on the response.

The follow-up actions for an NPS survey allow you to create separate workflows for Detractors, Passives, and Promoters.

Here's how you might automate a follow-up for each:

Detractors
Send a notification to the delivery lead flagging the project for intervention to solve whatever problems are causing the client to be dissatisfied.

Passives
Use a gifting platform like Sendoso to send the client a gift for being a loyal customer. Feeling appreciated might be the bump they need to become a Promoter in the next survey.

Promoters
Send a notification to the delivery lead to reach out to the client for a testimonial or case study.

By taking advantage of HubSpot's extensibility options, automation, and reporting, you can deliver exceptional service to your customers.
Ready to unlock the power of HubSpot for your team?
HubSpot is an incredible tool that more professional services teams should be taking advantage of.

Are you eager to discover how to kickstart your journey? Reach out to us! Aptitude 8's dedicated team would be happy to discuss your possibilities and guide you in leveraging the full potential of the HubSpot platform for your team.
Let's explore your options and find ways to empower your business with HubSpot!