Sending quotes to prospects is one of the most important parts of the sales process. Often, the initial quote is when the prospect first sees your company's pricing, and it can be an important tool to show that you mean business. A good quote could mean the difference between closing the deal or not.
It can be a struggle to maintain consistency when sending quotes. In some cases, different salespeople may prefer different formats, or there could be no standardization at all.
HubSpot's custom quote templates make it easy to create customized quotes that have consistent company branding, style, and language, no matter who is sending or receiving them.
Here's how to take advantage of this unique tool.
The Basics of Creating and Using Custom Quote Templates
HubSpot Sales Hub Professional and Enterprise customers can create a custom quote template through their HubSpot software. Once created, this template can be used by the entire team to send customized quotes to prospects. Each template includes editable modules that allow the salesperson to enter data specific to the prospect.
The key benefit to this model is that the style and template themselves remain consistent, regardless of which prospect is receiving the quote. That means your sales team will always send quotes that have consistent branding elements like logos and color schemes, and they'll always have the right language for communicating the products and services they intend to provide.
HubSpot's custom quote templates are built using the same systems as the HubSpot CMS. Custom quote templates can be embedded with deal-related data and contact data in addition to basic quote data. The template builder uses a module-based editor for customizing and hiding modules already present in the template.
Inserting Custom Deal Merge Fields
HubSpot's custom quote templates can auto-generate a variety of data to include in a quote. For example, this demonstrational quote from Aptitude 8 supports the insertion of custom deal merge fields, so the user can automatically generate the terms of the master services agreement (MSA) in the quote: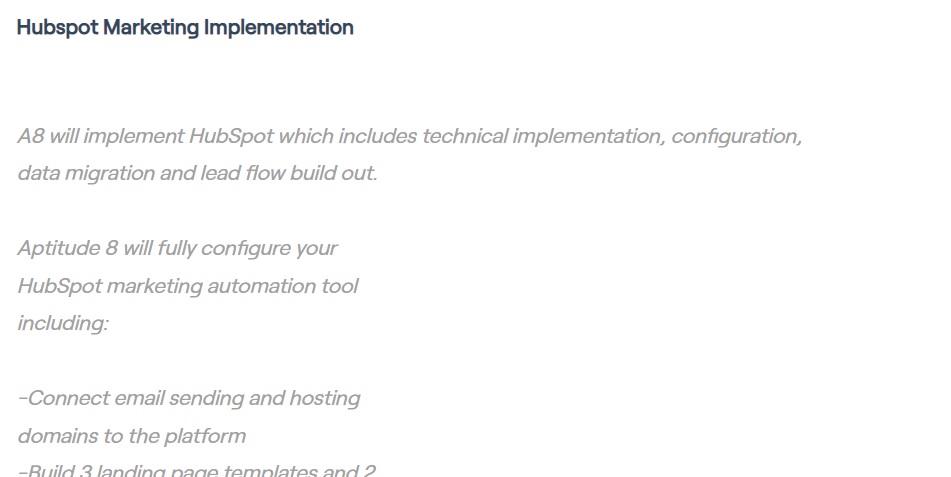 It also supports redlining, allowing users to copy and paste rich text from another document's MSA information. This helps them avoid cumbersome manual tasks while generating their quote. It also ensures every quote sent out to prospects has consistent MSA information.
Merging Object Data from Records
The custom quote template tool also allows salespeople to pull custom object data from any records related to a deal. It then merges them into the quote itself, presenting it based on the template parameters.
This is extremely important for customization, as this feature allows salespeople to go beyond traditional HubSpot objects, such as contacts and companies, when pulling data into the quote. Depending on your business, you could use this functionality to include any number of custom objects in your quotes.
For example, you may have saved the name of the corporation you're doing business with as a company object. But if you're sending a quote specifically to one of its subsidiaries, you could create a "subsidiaries" custom object to record that information and pull it directly into the quote.
You can even create custom modules and pull information related to other necessities in your quote. For example, you could create a custom module for hand-written signatures, initials, stamps, and any other non-digital information your prospect may require on the document. This module can be populated by contact objects or custom objects to designate who needs to sign and more.
Using Dynamic Terms Based on Which Products and Services are Added
You can also design your template to be dynamic and auto-populate information based on which products and services you include in the quote. If some services require specific legal language included, you can design the template to pull that information immediately into the document once those services are added.
This helps your team avoid any mistakes or omissions when generating quotes. It's also an important form of auto-compliance that your salespeople can rely on, as it ensures the right language is always present for certain types of contracts.
Generally, HubSpot's custom quote templates make issuing quotes and contracts to customers much easier and precise. It also makes the process less risky for your sales team, as there is less chance for error.
Start Using Custom Quote Templates Today
Although HubSpot's custom quote template feature is still in beta, it already has some powerful features for generating attractive and compelling custom quotes for prospects. It also frees up your salespeople from tiresome manual tasks.
Instead of having to edit a PDF to meet the prospect's specifications, they can generate quotes quickly and effortlessly through HubSpot.
To learn more about how you could benefit from this feature, don't hesitate to reach out to us at Aptitude 8.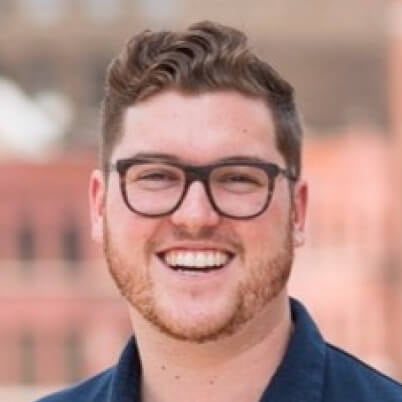 Connor Jeffers
Connor is Aptitude 8's Founder and CEO. He has over a decade of experience steering companies Systems Orchestration, Digital Transformation, Revenue Operations, and Growth and while he now spends more time on client strategy than direct implementation, he loves nothing more than getting his hands dirty with data and testing new automations.