So you're thinking about switching over to a new CRM and wondering how long the process will take?
Effectively integrating a new tool into your sales and marketing processes takes time and most organizations can't afford a long, drawn-out implementation process.
After all, time spent implementing a CRM is time you're paying for a product you're not actively earning money with.
The Time it Takes to Implement a CRM
Based on recent research looking at the Total Cost of Ownership of HubSpot vs. Salesforce, 43% of sales and marketing professionals that were surveyed reported an implementation process that took four months or longer.
That said, this report also broke this data down, looking at HubSpot vs. Salesforce, finding variation when comparing the timelines of those who implemented HubSpot to those who implemented Salesforce.
Approximately how many months did it take to implement your current CRM tool?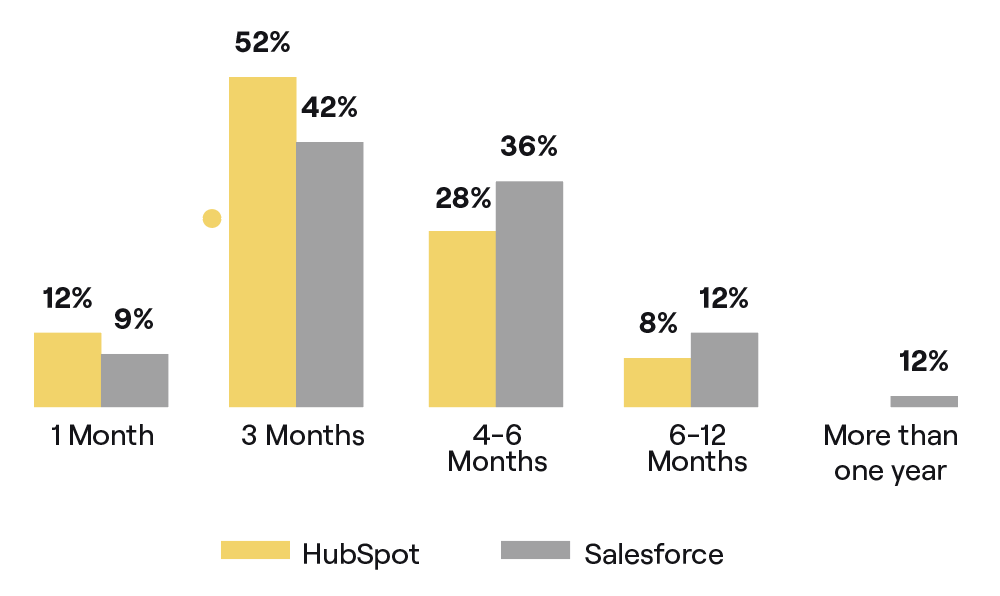 Based on this research, HubSpot would be a better choice if you're looking for a faster implementation overall. The majority of HubSpot users report spending 3 months or less implementing their CRM solution. Nearly two-thirds (64%) of HubSpot users report that it took 3 months or less to implement their current CRM solution compared to just 51% of Salesforce users.
Steps to Implement a New CRM
There is a lot that goes into a good CRM implementation. Your implementation process should include the following steps to ensure an effective implementation that empowers users to hit the ground running:
Map Out the Structure of Your Current CRM
This is an essential step. By mapping out your current CRM you'll be able to gain an understanding of what processes and systems your users are currently using and draw out requirements for the new CRM.
Translate Your Existing Data to Work Within Your New Tool
After you have the structure of your current CRM, you'll want to see how that translates over to a new tool. Look at how your data model would fit into this tool and what processes and automation you would need to build to support your users.
Migrate Your Fields
Now that you have an understanding of what you will need to live in your new CRM, it's time to start creating a place for that data. You'll want to ensure that you have all of the proper fields so that data from your old CRM can be cleanly imported into your new CRM.
Implement & Automate Operation Workflows
Next you'll want to build out processes and automation to support your users. Take what you've mapped out from the prior steps and use that to start creating the necessary foundation for your users.
Import Your Data
Once all of your data has a place to go, you'll want to ensure it's in the correct format and begin importing it.
Test End User Acceptance
During this step you'll want to get a couple of end users and walk them through the new CRM and the processes that you've built out.
It's important that you get buy-in and figure out if this is what will work best for them. If any big changes need to be made, now is the time to find that out.
Go Live With a Beta Group First
Similarly to the prior step, you'll want to gather a small group of end users. This time though, have them use the new CRM for all CRM tasks instead of the old system.
The importance of having a small group test, is so that you can find issues or problems NOW while the impact of anything going wrong is limited. You'll want to make note of any feedback you receive during this step and make changes.
Get Sign-Off From Beta Group and Go Live
Once your beta group has given their approval, it's time to roll out the new CRM to the rest of your team.
Training & Launch Support
After launching a new CRM the work isn't over. You'll want to continue to provide training and support for users while they get adjusted.
Getting accustomed to a new CRM and processes can take some time and users will likely need some assistance while they get familiar with how things work. By providing great training and support, you'll help them adopt the tool and learn to use it more effectively.
Ongoing Refinement & Optimization
After going through these steps, your users should be set to begin using the CRM. Keep in mind that a CRM grows and changes as your business does, and you'll want to continue monitoring for improvements as time goes on.
Ready for a CRM?
CRMs take time to implement effectively, however, they can affect your business in a very positive way and help your team be more successful when used properly. Don't rush your implementation and follow the steps for users to be successful.
While HubSpot and Salesforce are both great tools with a large variety of use cases. our research indicates that it takes less time to implement than Salesforce. So, if your team is looking to pick up a tool and use it as soon as possible, HubSpot may be the better option.
How Aptitude 8 Can Help
Our team of certified HubSpot and Salesforce Consultants have CRM Implementation down to a science. That's one benefit of working with a partner for your CRM Implementation. Partners act as experts here and can help save you time in the process.
Contact us to learn more how we can help you efficiently and effectively implement your CRM.