Case Study
National Fatherhood Initiative
The National Fatherhood Initiative needed a better way to manage their subscriptions and report their results. Aptitude stepped in with automation and data orchestration solutions.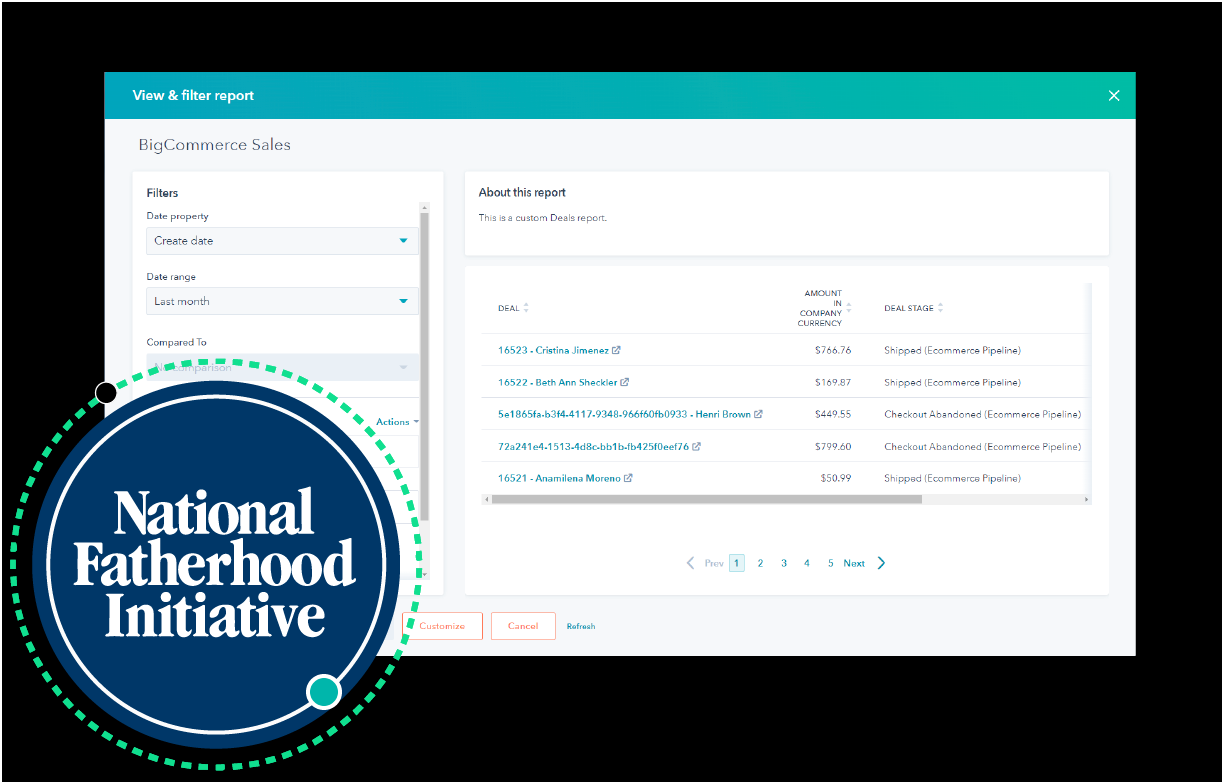 The Client
National Fatherhood Initiative® is a non-profit organization. Its mission is to increase the involvement of fathers in their families' lives by equipping communities and human service organizations with the engagement training, programs, and resources they need to be father-inclusive.
The Problem
The National Fatherhood Initiative used google sheets to track hundreds of subscriptions to course materials, which was less than ideal. This posed many problems when it came to subscription management and tracking of data.
With hundreds of growing subscribers, the non profit organization was held back with technology that made an unnecessary amount of their work manual.
This held their team pipeline back and left them wide open to costly human error mistakes. The weakness needed to be eradicated completely; especially since money was on the line. For instance, the google sheet's information about the start and end dates for the subscriptions is hard to read and maintain.
It was not easy to report on the number of customers currently subscribed. Renewals to subscriptions used the same SKU as the first-time purchase, so it is not easy to differentiate between renewed subscribers and those who are newly subscribed. There was no technology available to indicate who canceled their subscriptions.
Because of this, volunteers who managed subscriptions had to manually check the google sheet every so often to see who hasn't renewed in order to shut off access to their subscription content. Another daunting thing to work with, was the many state agency customers who purchased subscriptions in bulk. Hundreds of subscription access accounts could be created, but all housed under the same state agency name. The only way to keep track on these were separate tabs in google sheets.
Overall, The National Fatherhood Initiative's subscription management workflow was heavily reliant on manual input as opposed to an automated process. This security risk, as there is too much room for human error and money on the line.
Connecting event platforms

Need automated subscription tracking
The Solution
First and foremost, we recognized that the National Fatherhood Initiative hosts numerous events throughout the year. They used different event hosting platforms to organize these events. We recommended connecting these platforms with HubSpot to capture and sync data from these events moving forward.

The first thing we did was map the orders in Eventbrite and Thinkific into Hubspot using middleware - Zapier. This allowed products and orders from all the different platforms to be recorded in one spot.

From there, we did a big clean on the product library, and made some necessary adjustments: deleted products, added important fields that needed to be captured. We finally added reporting so that NFI can actually see the revenue and number of deals by platform, all in one place.
The Outcome
As a result of Aptitude 8's efforts, The National Fatherhood Initiative now has better tracking across its member lists and product portfolio, as well as a better overall user experience. The nonprofit now has a fully functional subscription tracking system that rivals those of the largest companies and that their team can manage easily. Most importantly, the National Fatherhood Initiative has a much more holistic view of their active, inactive, lost, and upcoming subscriptions.
All their sales reports and figures are pushed into HubSpot for a complete view on a single platform. This significantly cuts down the organization's administration times when creating monthly and quarterly reports, as the team doesnt have to pull from three different systems.

Why Aptitude 8?
Nonprofits choose to work with Aptitude 8 because we specialize in building custom HubSpot integrations and automations that make operations more accurate, efficient, and user-friendly. Our team can solve highly specific problems using HubSpot's custom objects and its sophisticated data modeling features.

With just a few inputs from the National Fatherhood Initiative, Aptitude 8 built an integration that significantly improved their overall subscriber management and customer success processes.
Whether you need a complete system overhaul or a small, custom-built integration, we can find a way to make HubSpot work for you.