If you're looking for a customer support solution that is efficient, easy to use, and can integrate with the rest of your tools, then look no further than HubSpot's Service Hub. If you're already using HubSpot, Service Hub is easy to activate. You can start using it immediately.
In this post, we'll explore how you can manage your customer support operation using HubSpot's bots and ticketing system.
Using Tickets in HubSpot
A ticket is a request for help from a customer or user. Users can usually create tickets on their own if they are using a software solution you provide, or you may create them based on customer requests that come in via other channels.
HubSpot's ticket system lives in the Service Hub. This system enables you to manage their support requests efficiently, directly through your HubSpot CRM, so you can access information about each user alongside their service request. You can start using this system immediately if you are already using HubSpot.
Here's what it looks like when you create a ticket in Service Hub:
(Source: HubSpot)
Each ticket can be associated with a pipeline as well as other properties within your HubSpot database. These can include different categories within your support operation as well as companies you might be partnered with. For example, you can associate a ticket with deals or a specific contact, which would allow you to view that contact's entire history with your organization.
Once created, a ticket looks like this: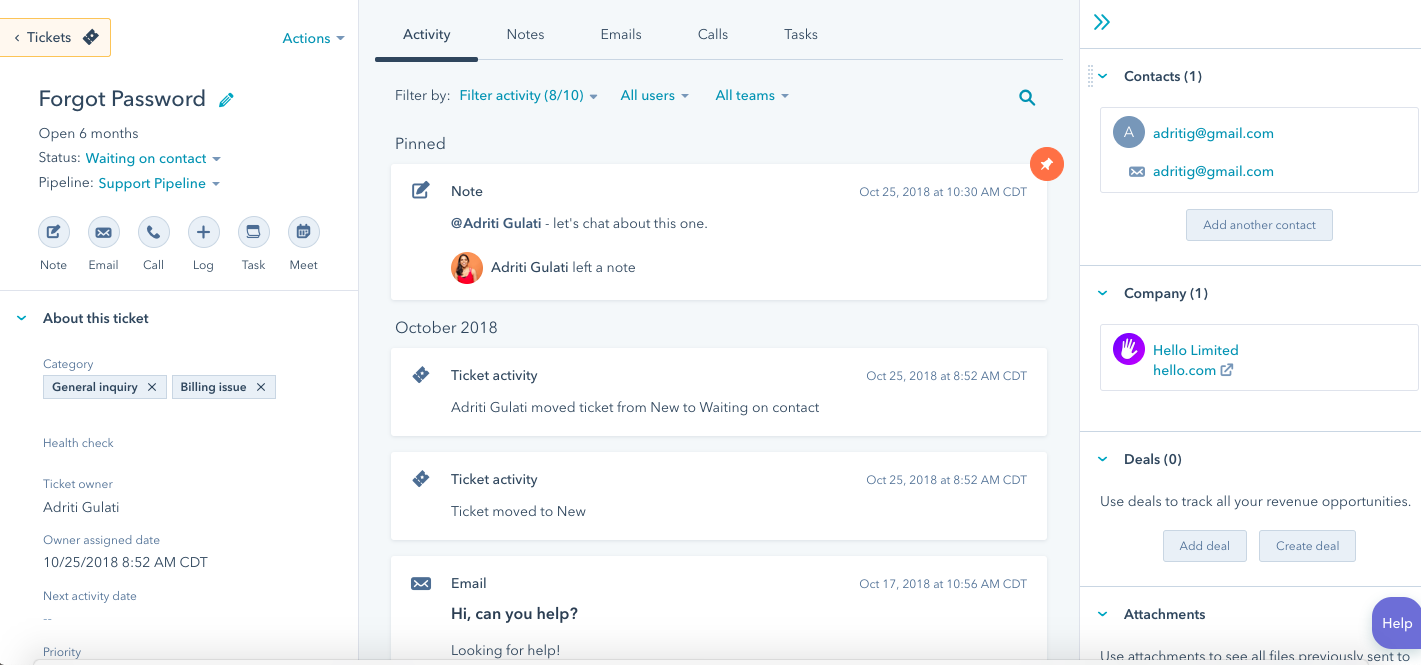 (Source: HubSpot)
In this ticket, the user is requesting assistance because they forgot their password. Here, you can see how long the ticket has been open, the ticket's history, the current status of the ticket, and more information, such as the user's contact information.
You can manage your entire service operation directly through the HubSpot dashboard. If you have a relatively small company with few tickets coming in, this may be all you need. But if you need a systematic approach to managing customer support requests, you can use HubSpot tools to schedule support work and keep track of requests over time.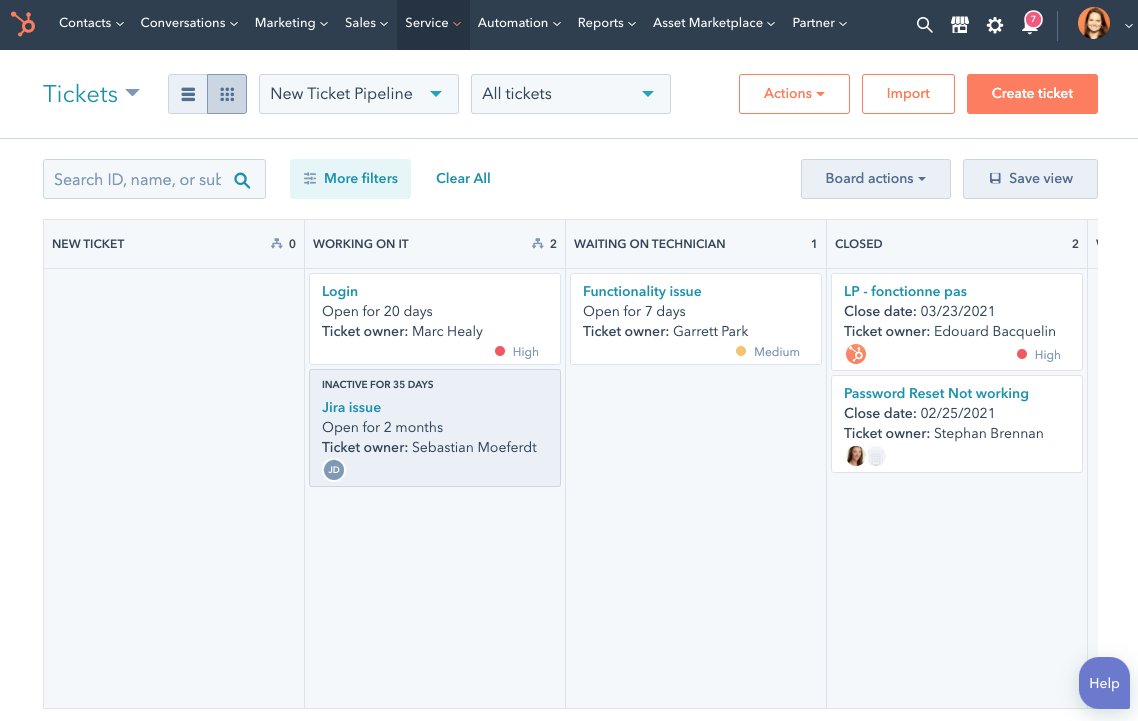 (Source: HubSpot)
For example, you can create a Kanban board to get a bird's eye view of new tickets, as well as the process of tickets that have already been submitted. This makes it much easier to follow up on tickets that require your attention. It also creates a clearer delineation between your tickets and internal tasks.
Tickets can even be ranked based on priority. In the image above, some tickets are ranked as "high," while others are ranked as "medium." This helps you and your team members plan out their days based on which tickets need to be closed sooner rather than later.
HubSpot's customer service system has a broad range of applications, too. It's particularly useful for software vendors, but you can apply to almost any support program you can think of.
You can even use the system to gain high-level insights about your service program. HubSpot's analytics make it easy to identify customer service trends, track your service capacity, and more.
If you're getting an influx of tickets about a specific problem with your product or service, that could indicate that there is a serious issue. Similarly, if your tickets are staying open for long periods without being resolved, it could mean that it's time to expand your support capacity.
Building a Knowledge Base
Tickets are just one way to provide excellent support to customers through HubSpot. You can also use HubSpot to generate a knowledge base for customers to find answers to common questions.
A knowledge base is a collection of documents that provides information about a particular topic. In customer support, a knowledge base can be used to provide solutions to common problems or to give customers instructions on how to use your product or service.
Knowledge bases are often created for customer self-service purposes. However, a knowledge base can also be used to provide customer support agents with information about how to best help customers.
HubSpot lets you create a knowledge base directly through its Service Hub. Simply select "Service" and then "Knowledge Base" from your HubSpot dashboard.
Generally, your knowledge base will be comprised of different articles that address specific topics about your products and services. If you've ever published a blog post through HubSpot, the process is very similar.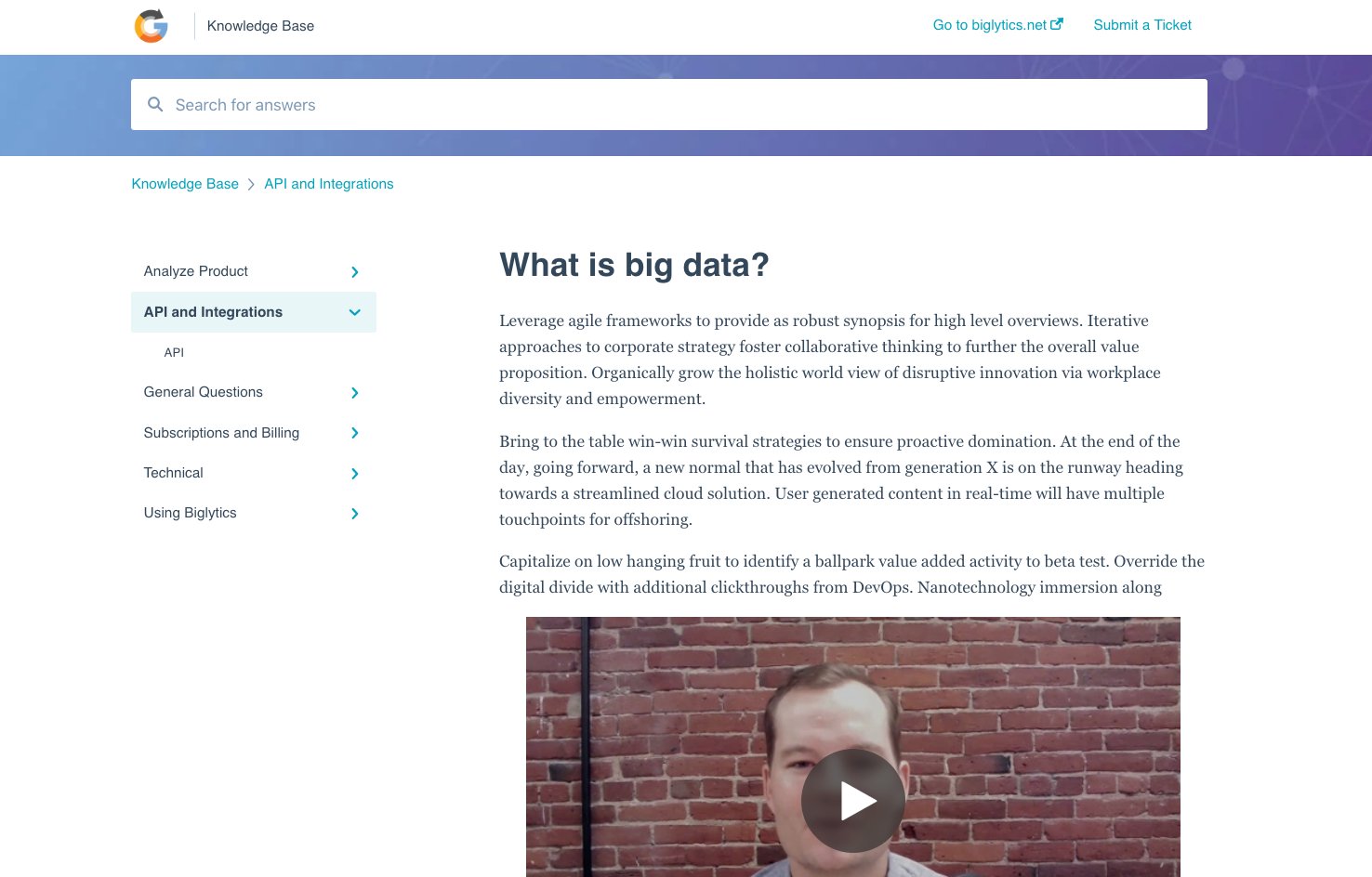 (Source: HubSpot)
The biggest difference between this and your blog is that your knowledge base lives on a separate site. This allows your customers and employees to search the knowledge base without getting results from your blog, or elsewhere.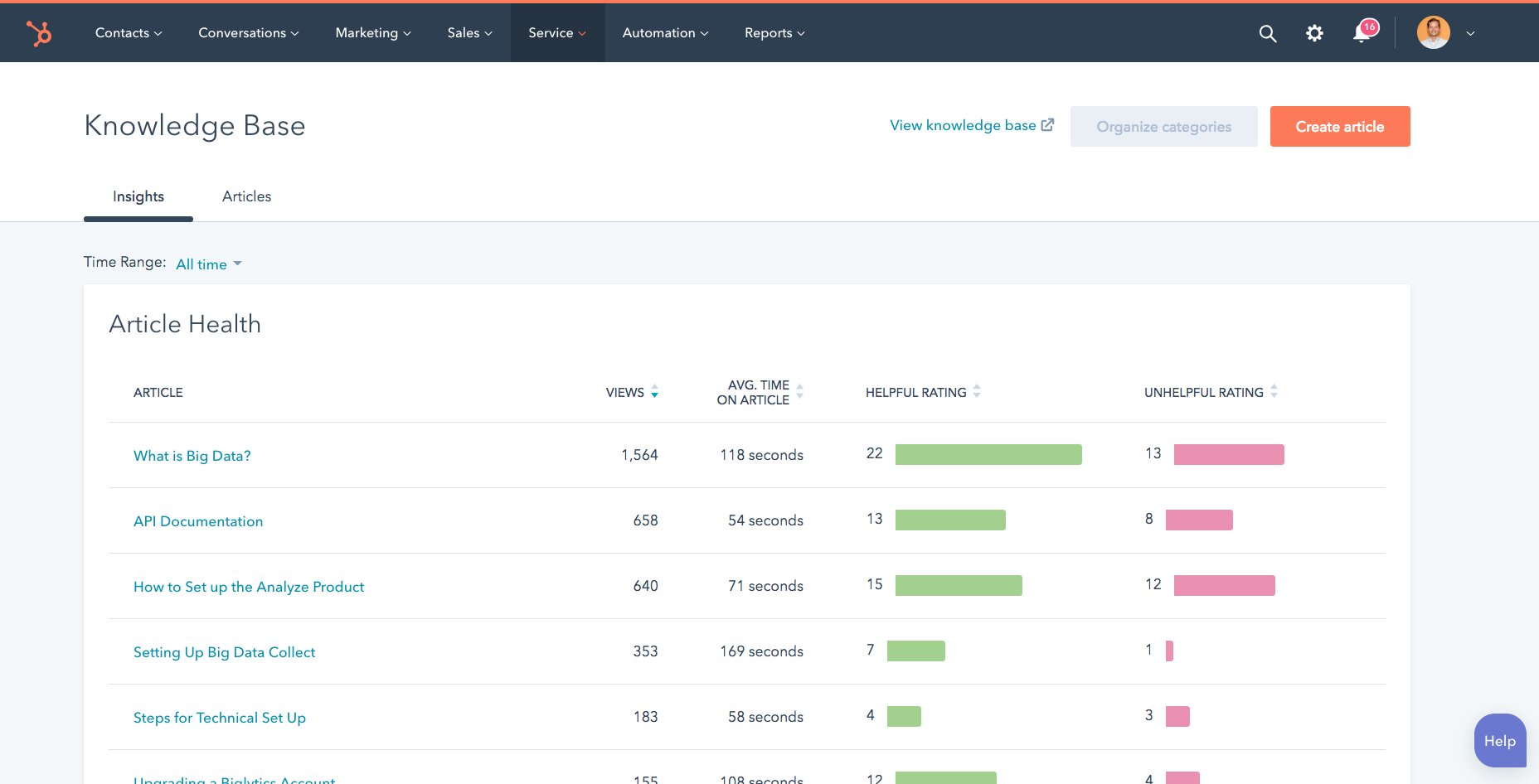 (Source: HubSpot)
HubSpot even helps you analyze the effectiveness of your knowledge base by tracking data on how many people visit and interact with your pages. For example, you can ask users to rate each page, which can show you which of your pages are helpful and which ones need improvement.
Creating a Customer Support Bot
Finally, HubSpot offers customers free chatbot builder software. It makes it easy to generate chatbots for a variety of uses, such as qualifying leads, booking meetings, and providing customer support.
Chatbots are especially useful in customer support contexts because it can be so challenging to deliver a person-to-person experience at scale.
The best part about this tool is that you don't need any coding experience to use it. HubSpot provides pre-built templates to help you build the type of bot you need. All you must do is fill in the questions and responses.
Here's an example of what it looks like to build a bot using logic in HubSpot. This particular example is for a lead-qualifying bot: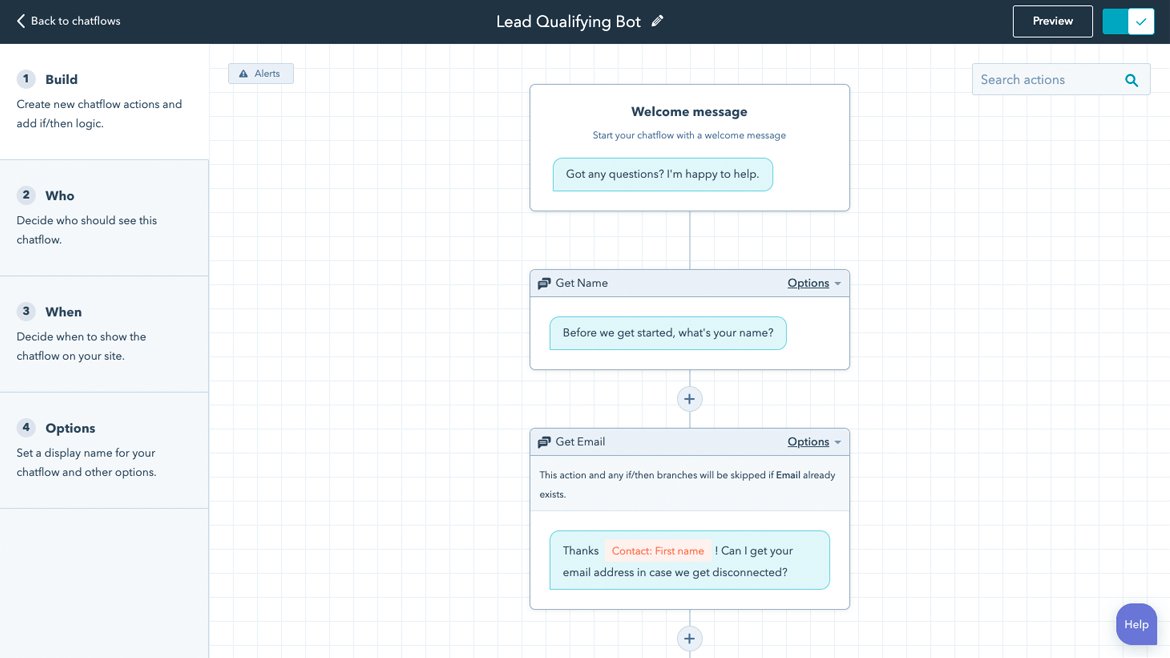 (Source: HubSpot)
HubSpot even connects the chatbot to your database, so you can recognize return users or log new contacts as they interact with the bot. You can also connect your chatbot to your knowledge base to provide users with links to articles that can answer their questions.
Jumpstart Your Customer Support Program with HubSpot
HubSpot provides all the tools you need to get your customer support program up and running. More importantly, it makes managing your program simple, transparent, and easy, both for you and your customers.
To learn more about how you can use HubSpot and Service Hub for customer support, contact us at Aptitude 8 today.