HubSpot has launched new validation rules for properties in its flagship CRM. With these new rules in place, HubSpot will help you ensure any data you enter into your database is accurate and organized. The rules are designed to prevent instances of corrupt, inaccurate, or invalid data from entering your database and inhibiting your capabilities.

Most importantly, by using HubSpot's validation rules for properties, you'll be able to save time and avoid the hassle of dealing with inaccurate data.

Here's everything you need to know about this new feature.
What HubSpot's New Validation Rules for Properties Do
This new capability is currently in its beta version. It allows you to set rules for custom text and number properties in your HubSpot CRM.

When you set validation rules for a specific property, users must meet those rules before they can save a value. If they can't meet those rules, then the value can't be saved, and it won't be loaded into your database.

This is an especially useful tool for companies that rely heavily on Objects in HubSpot. It helps them ensure incorrect data doesn't inhabit those Objects or cause problems with automated processes, customer experiences, and more.

HubSpot provides a good example of how this could work for certain types of businesses: "You could create an Order Number text property where values can only contain numeric characters, or create a Payment amount number property where values can only contain up to two decimal places."

As you can imagine, you could create rules for many different types of properties with your HubSpot Objects.
How to Use HubSpot's Validation Rules for Properties
You'll need super admin permissions to activate validation rules.

First, opt your account into the Property Validations beta to activate the functionality. To use it, an account will also need "Edit property settings" permissions as well.

To start setting rules, click on the "Settings" icon in the main navigation bar, navigate to "Properties," and then click the "Select an Object" dropdown menu.

From there, you can select the specific Object you'd like to edit. Once you've found the Object, select the "[Object] properties" to create or edit the property you intend to add validation rules to.

If you create a new property, you'll be able to enter the property's validation rules after you enter the property's basic information, such as its property group, label, and name. For the "field type," you'll be able to select "Single-line text," "Multi-line text," or Number.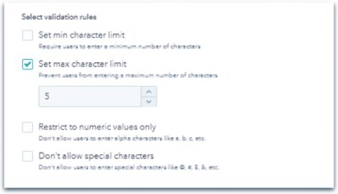 (Source: HubSpot)

This will open the "Select validation rules" window, which will display multiple checkboxes to turn on validation rules for the property's values. The available options will depend on the property's field type.

For example, Single-line text and Multi-line text field types allow you to set a minimum or maximum character limit. You can also restrict values only to numeric characters or disallow special characters.

If you use the Number field type, you'll be able to set a number range or require decimal places (this is particularly useful for currencies).


Take Advantage of HubSpot's New Validation Rules

We recommend that all businesses take advantage of HubSpot's new validation rules to keep their CRMs clean and running smoothly. The capability is currently in beta, but it's already a powerful tool for ensuring your data is clean and your operations function smoothly.

To learn more about using these new rules, contact us at Aptitude 8 today.