HubSpot first announced its Custom Objects feature about two years ago. We also provided a detailed overview of HubSpot's new capability, referring to it as "the single most important feature they've ever released."

We stand by that statement. Since Custom Objects was announced, businesses of all sizes and types have been using the capability to create unique objects in their CRMs, greatly expanding their ability to record meaningful data and get measurable results.

In typical HubSpot fashion, this feature isn't static, either. It's constantly receiving updates and improvements, and HubSpot decided to roll out some important features around the same time as its annual INBOUND conference.
A Refresher on HubSpot's Custom Objects
In the HubSpot CRM, custom objects are objects that can store and structure almost any type of data. Originally, objects in the HubSpot CRM were limited to the following:
Contacts
Companies
Deals
Tickets
Custom objects opened a new realm of possibilities for companies to store different types of data. It also enshrined HubSpot as an enterprise-level product that could serve almost any type of business.

Essentially, you can create objects that are relevant to virtually any aspect of your business that could be managed using data.

For example, if you need to track progress on a customer onboarding project, you could create an "onboarding" object to do so. Likewise, a car dealership could create a "new car" object, a developer could create objects relating to their proprietary software, and so on.
Once you've defined a custom object, you can create properties attached to it, then use them to manage your pipelines and create associations between your objects. Altogether, objects are an important tool for your workflows, emails, and automation processes.
HubSpot recently updated its page on this subject. Here's what you can expect from HubSpot's Create a custom object beta feature.
The Create a Custom Object Beta
The current state of the create a custom object beta offers a range of capabilities to improve how you record and store information in your CRM. The biggest change is that custom objects are now easy to create using a simple form in your HubSpot CRM.

That means even if your users aren't familiar with APIs, they can create Custom Objects on their own.

Only HubSpot users with an Enterprise-level subscription can create custom objects. However, it applies to every type of Enterprise subscription:
Marketing Hub Enterprise
Sales Hub Enterprise
Service Hub Enterprise
Operations Hub Enterprise
CMS Hub Enterprise
Only super admins can create a custom object in HubSpot's settings or via the API.
Creating an object is relatively easy. Simply click on the "Settings" icon (the gear) in the main navigation bar to get started. Then, navigate to "Objects" and "Custom Objects." There, you'll see a "Create a custom object" button, and any previously created custom objects will appear.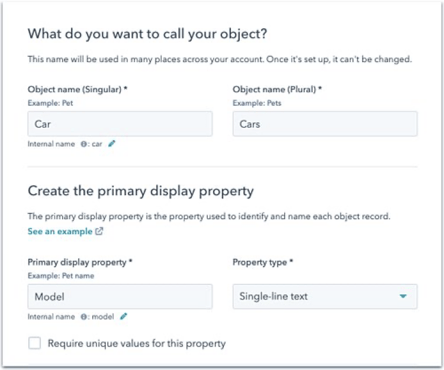 (Source: HubSpot)

This will open a display that allows you to name your object and create primary display properties.

In the example above, you can see that the user is creating a "Car" object, which will include the display property "Model." This user could add secondary display properties to the custom Car object, such as "Make," "Year," or any other features you can think of that may be pertinent to a car.

The user also has the option to require unique values for each property, as you can see in the checkbox at the bottom of the image. This prevents users from accidentally creating duplicate entries in the database.

Once you've entered this information to your liking, you can click on the "Create" button at the bottom of the panel to create the custom object.
With the object defined, you can do the following:
Create association labels to associate your object with other objects
Create custom object pipelines to track your custom objects processes
Customize the properties that appear in your records' sidebars, association cards, and board cards
Choose which properties appear when manually creating new custom object records
Take Advantage of HubSpot's Custom Objects
What you see above are the latest developments to HubSpot's Custom Objects feature, but you can be sure there will be more updates forthcoming. HubSpot is always responsive to community suggestions, and they are constantly trying out new features.

To learn more about what you can do with HubSpot, contact us at Aptitude 8 today.