HubSpot is one of the most popular sales and marketing CRMs in the world, and they're growing every year. Once a popular software product for U.S. companies, HubSpot now has users on every continent.
According to HubSpot themselves, they have over 56,500 customers around the world. That might seem like a small amount, but that's the number of HubSpot accounts they've sold, not the number of users. A single account on the CRM could have hundreds of users, depending on the size of the company.
Even just calling it a CRM doesn't do the product justice. Considering HubSpot co-founder Brian Halligan coined the phrase "inbound marketing," it makes sense to call the product an "inbound marketing engine" or something similar — there's a lot you can do with HubSpot.
Unfortunately, not every company that uses HubSpot is using it to its full potential. If you aren't using every available feature to drive sales and marketing, you missing out on an opportunity to grow your business.
According to one study, nearly 70% of business technology spending is wasted because it doesn't provide ROI.
If you're paying for a HubSpot package, you should take advantage of everything that package has to offer.
Here are a few ways you can use the HubSpot CRM to its full potential:
Give Your Team a HubSpot Education
In addition to its products, HubSpot provides its customers with access to a full suite of courses covering everything from inbound marketing to sales and customer support.
You and your entire team can become HubSpot certified in several inbound disciplines. You can then display these certifications on your LinkedIn profiles. Many companies present them on their websites to build trust with visitors as well.
But more importantly, HubSpot offers its customers a beginning-to-end education in how to use their software. Naturally, not everyone on your team will have the time to learn every aspect of HubSpot's product, but you can encourage your employees to learn strategically.
For example, it makes perfect sense for your salespeople to become inbound sales certified and learn how to use the sales end of the HubSpot CRM to its fullest potential. Your marketing team can learn the ins and outs of marketing on HubSpot, and your customer service team can fully learn how to use HubSpot's customer service software.
Integrate All Your Other Systems
HubSpot integrates with over 200 different apps, including major brands like GoToWebinar, Zendesk, and Facebook.
If you prefer to use a different CRM, such as Salesforce, you can integrate it with HubSpot, too. This gives you access to all HubSpot's marketing, sales, and customer service features but leaves intact the CRM you prefer. Because of this kind of systems integration, you'll even be able to transfer data from HubSpot to your CRM, and vice versa.
Integrating your entire technology stack solves a common and debilitating business problem: the problem of silos.
Instead of having to look through multiple apps and programs to find the data or the tool you need, you should be able to log into a single environment to put everything at your fingertips. HubSpot solves this by integrating with major marketing and sales systems, as well as other, more granular apps, such as email clients, analytics tools, and project management software.
Even if you don't use HubSpot's website-building tool, HubSpot can integrate with WordPress, too.
Use HubSpot's Campaigns and Analytics
One of the most common mistakes first-time HubSpot users make is ignoring campaigns.
You don't need to create a campaign to use HubSpot, and most companies are so excited about HubSpot's other features that tracking specific campaigns gets put by the wayside.
But operating with campaigns provides several benefits, especially when it comes to reporting. If you aren't using campaigns, you could miss key insights about your marketing strategy.
Essentially, a campaign links all your disparate campaign assets within HubSpot. Every article, landing page, email, and social media post can be linked to a campaign. In the campaign dashboard, you can get a bird's eye view of how each of these assets is contributing to the campaign via HubSpot's campaign reporting.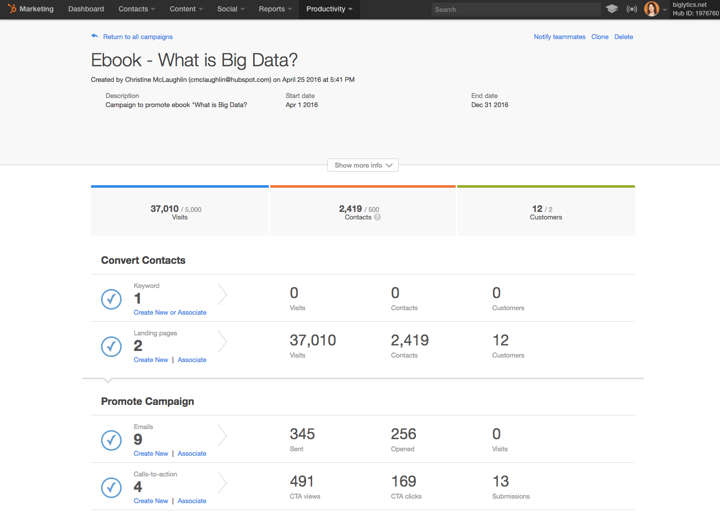 (Source: HubSpot)
For example, if you've just completed a whitepaper and you want to market it using a campaign, you may create several assets to do so, including:
Blog posts
Landing pages
Emails
Calls-to-action
Website pages
Social media messages
Paid advertisements
This is a rich marketing ecosystem. You can analyze how each of these assets is performing on their own, but the campaign tool lets you see how they work together to achieve your goals. Reports are easy to generate and understand, and they provide a treasure trove of data.
Take Advantage of Automation
Automation is no longer just a nice thing to have. It's a necessity.
According to Forbes, 67% of marketing leaders relied on marketing automation in 2018 and another 21% planned to implement a new marketing automation platform within a year. Furthermore, 82% of marketers recognized a positive return on investment from automation.
HubSpot provides more than just marketing automation. There are automation tools within the sales side and customer service side as well.
The main driver of HubSpot's automation is the workflow. A "workflow" refers to a sequence of tasks that occur automatically, or semi-automatically, depending on certain criteria. HubSpot's workflows go beyond automated emails, and they can span from the top of the marketing funnel to the customer service center.
For example, a workflow could send out an automated marketing email based on a visitor's activity on your website. It could then nurture that visitor with other emails, or even SMS messages. Meanwhile, the workflow could send task reminders to your salespeople reminding them to follow up with that person once they become a prospect, and you could automate personalized confirmation text alerts after that person becomes a customer.
If you're having trouble proving the ROI of your marketing budget, automation is a must-have. According to one study, almost half (48%) of the companies surveyed said they could always prove ROI thanks to their investment in automation — that's compared to just 35% who could always prove ROI without automation.
Increase Transparency with HubSpot's Reports
Even outside of campaign reporting, HubSpot's reports are some of the best in the business. You can build your own custom reporting dashboard to see KPIs the second you log into HubSpot. If you need to dig deeper or build custom reports, you can use numerous criteria to get the exact data you need.
HubSpot's reporting tools automatically generate customizable charts and graphs. You can send them to your colleagues and use them to create reports on a regular basis, such as monthly or quarterly assessments of your marketing.
Leverage All of HubSpot's Embedded Tools
As you can probably already tell, this is much more than a CRM. Regardless of the package you choose, you get access to a lot of products when you use the HubSpot CRM.
You may not have the time or the staff to take advantage of every single one of HubSpot's tools, so your best course of action is to identify the tools that will best serve you and implement them in your strategy.
Here, we've outlined a few of the most essential HubSpot tools available:
HubSpot's Content Strategy/SEO Tool
Not long ago, HubSpot's software came with a nifty keyword tool that helped users identify the best target keywords for their pages. This tool still exists, but it is no longer featured on HubSpot's dashboard.
In its place is HubSpot's content strategy and SEO tool. This tool helps you create a map of all your published content so you can generate more organized content campaigns. It also helps you link blog posts to "pillar" content, epic content, and other essential pages, which can influence your rankings in search results.
The idea behind the tool was to combine the best parts of a HubSpot SEO and content strategy into one. Instead of writing random, one-off blog posts, you can build content around specific campaigns and map out a content schedule for months in advance.
HubSpot's Blogging Platform
Even if you have a WordPress website, you can still use the HubSpot blogging platform if you prefer it. All you need to do is create a subdomain for your HubSpot blog and attach it to your site's navigation.
Naturally, if you use HubSpot's CMS (which we'll discuss next), it comes equipped with HubSpot's blog platform.
Although plenty of bloggers swear by WordPress, many people find blogging through HubSpot much easier than blogging through other platforms. That's because HubSpot's blog interface was designed for people who aren't web developers.
That's right. Even if you have zero experience building web pages and doing SEO, you can get the hang of HubSpot's intuitive blog platform.
The blog optimization tool provides you with a punch-list of SEO tasks for each blog post. All you need to do is go down the list before publishing to ensure you've covered all your bases.
‍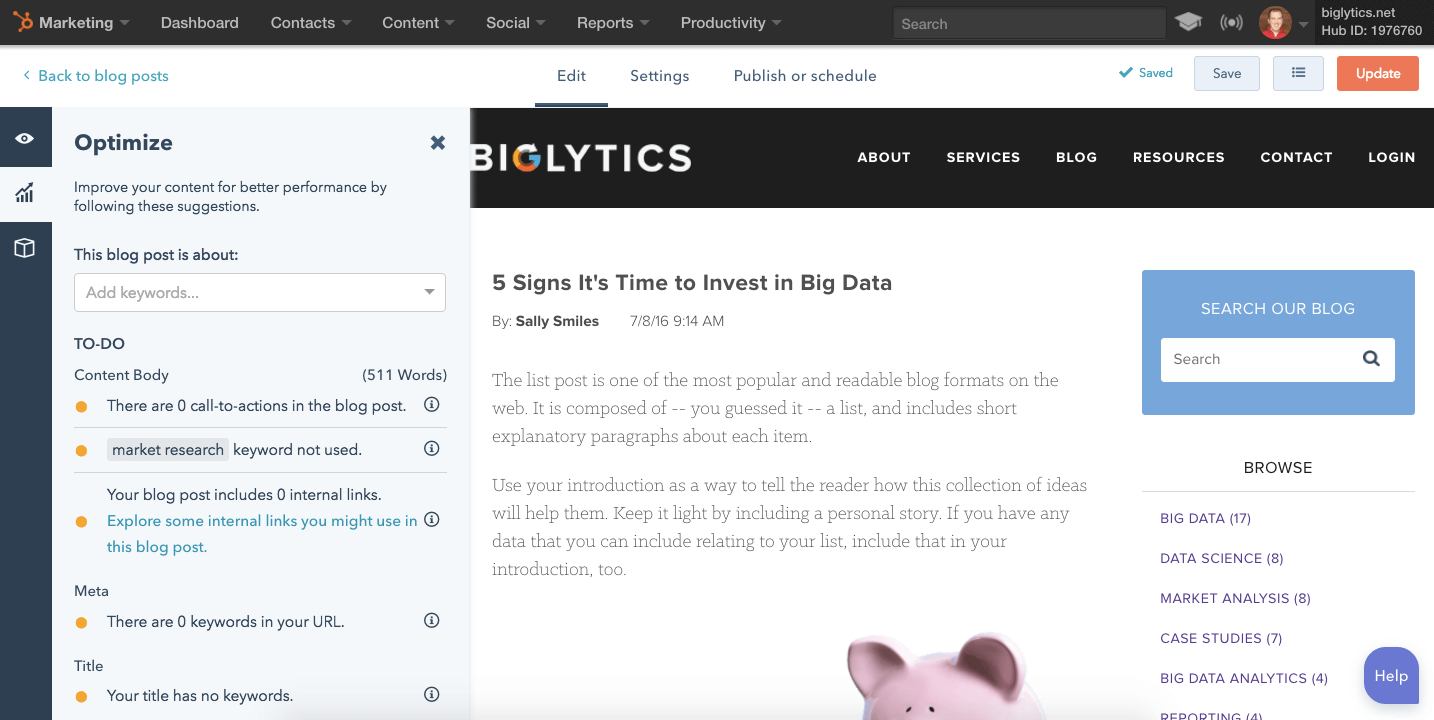 (Source: HubSpot)
There is even a composing and editing option, so if you just want to write and get feedback from an editor, you can do that too. The blog tool connects directly to the content strategy and SEO tool, so you don't need to access it separately to attach blog posts to topics or subtopics within your content maps.
The HubSpot CMS
The HubSpot CMS is actually called the "HubSpot COS," and for good reason. It's more than just a content management system — it's a "content optimization system."
Building a website through HubSpot lets you integrate it with HubSpot's other tools. While you can integrate your WordPress site with HubSpot, it isn't as easy as using the HubSpot COS. For example, you must manually input URLs into HubSpot's content strategy tool if you want to track data on specific pages.
Some of the benefits of the HubSpot COS include:
Automatic mobile-responsive design
Easy customization
Smart content
Fast loading speeds
Easy SEO optimization
Built-in analytics
A free SSL certificate included
24-hour support
A booming template marketplace
So, if you don't have an extensive web development team on hand, the HubSpot COS might be your best bet for building a fast-loading, mobile-responsive, SEO-optimized website.
HubSpot Landing Pages
You can build a landing page using any CMS, but HubSpot makes it easier to build them with templates and drag-and-drop building tools. What's more, your HubSpot landing pages integrate with your campaigns and all your other analytics tools.
Even if you use a WordPress website, you can still use HubSpot's landing pages.
HubSpot CTAs and Forms
Like landing pages, HubSpot's CTAs and forms integrate with all your other HubSpot tools. You can use them on your WordPress site, and they provide actionable, real-time reporting directly to your HubSpot dashboard.
However, CTAs and forms are even easier to build in HubSpot than landing pages and web pages. You don't need any web development knowledge to design a killer CTA and an eye-catching form. Simply choose colors, images, form fields, and other requirements, then deploy.
HubSpot's Social Media Tool
HubSpot's social media tool operates similarly to other social media automation applications, such as Hootsuite. You can connect accounts from all the major social media platforms, including Facebook, Twitter, Instagram, and LinkedIn.
Like other social media marketing apps, HubSpot allows you to schedule social media posts in advance. But the app also integrates with your capaign tools. You can even publish to social media networks in the same place you build your campaigns.
Using HubSpot's social media reporting feature, you can integrate your social media strategy to your reporting and see how it influences your bottom line. You'll never scratch your head and wonder if social media is worth it again.
But perhaps the most important feature of HubSpot's social media tool is it's monitoring feature. This dashboard brings all your mentions, comments, shares, retweets, replies, likes and other interactions from each one of your social media accounts to a single location. Instead of hopping between different platforms to communicate with your customers and prospects, you can do it all in one space.
‍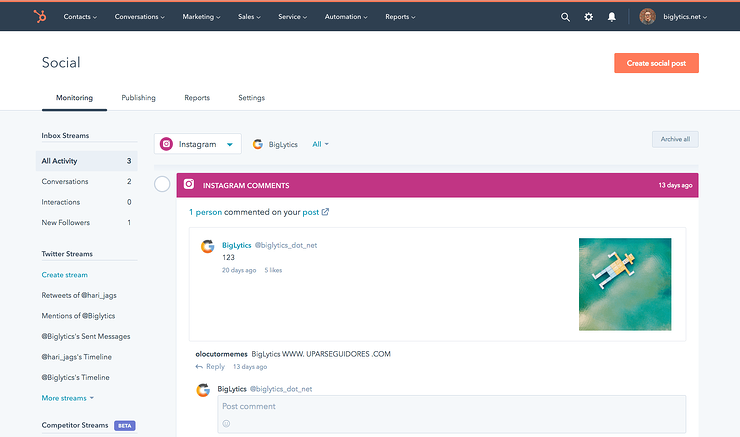 (Source: HubSpot)
Anyone who has ever managed a company social media account will recognize how much of a time-saver this is, and you won't have to worry about missing any potential leads.
Get the Most Out of HubSpot
There are too many features in HubSpot to cover in a single article. You may not need to use all of them, but you should at least use enough to see a significant ROI.
If you need help integrating HubSpot with your other marketing systems, or if you're struggling to make HubSpot work for your business, contact us at Aptitude 8. We specialize in helping our clients integrate and synchronize their marketing technology, so they can drive efficiency and gain more transparency regarding their business metrics.
We're especially knowledgeable when it comes to HubSpot. In fact, we're a HubSpot partner and we are even listed on HubSpot's Partner Advisory Council for 2019.
‍
‍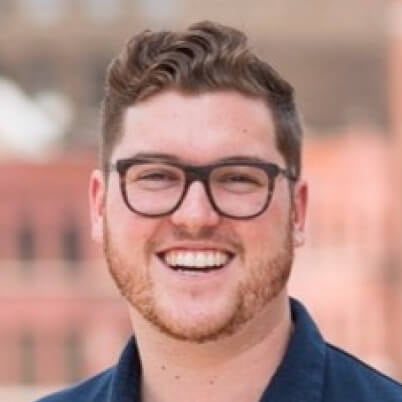 Connor Jeffers
Connor is Aptitude 8's Founder and CEO. He has over a decade of experience steering companies Systems Orchestration, Digital Transformation, Revenue Operations, and Growth and while he now spends more time on client strategy than direct implementation, he loves nothing more than getting his hands dirty with data and testing new automations.