Demand generation is a holistic discipline that encompasses marketing, sales, and customer retention processes. While many companies focus heavily on branding and inbound marketing as part of their demand generation efforts, they may be missing some important pieces of the process that make it difficult to scale.
Namely, demand generation should be a coordinated effort between a demand generation lead, your marketing team, and your sales team, with sales development representatives (SDRs) working under your marketing team to focus on prospecting and qualifying leads.
Here's a breakdown of how you can scale your demand generation strategy with the help of key roles, technology, and an agency partner.
Hire a Demand Generation Lead
As technology has reshaped marketing and sales, there is more demand than ever for individuals who can coordinate efforts to leverage data, identify leads, and drive results. Automation has also replaced many of the manual processes that once characterized sales and marketing teams' daily activities. This has created new opportunities for companies to scale their strategies, as well as demand for new types of strategic talent.
Your demand generation lead is a specialized person who works alongside your sales and marketing teams to help generate interest in your company, retain customers, and drive revenue growth. This is a strategic leadership role. Your demand generation lead will coordinate your entire demand generation strategy from top to bottom, using their strategic knowledge and leadership skills to generate long-term customer relationships.
The amount you pay a person in this position can vary depending on the size of your company and the responsibilities you place on them. According to HR consulting firm Robert Half, the national median starting salary for demand generation managers is $88,000. According to Glassdoor.com, the national average salary for a demand generation manager is about $101,000, but the website also lists positions for "demand generation leads" ranging from $55,000 per year and higher.
To measure the success rate of your demand generation lead, you can use demand generation metrics. For example, a reduction in cost per acquisition (CPA) would indicate that your lead is improving the return on your marketing investment by helping to produce more revenue per customer generated—an important metric for RevOps.
Other important metrics to consider are customer lifetime value (CLV), closing rates, marketing cycle rates (the shorter the better!), and conversion rates throughout your marketing and sales funnel.
Get an Amazing Agency to Support Them
Even the most talented demand generation lead can't work in a vacuum. They need a team of professionals to provide them with technology, creative assets, and ideas. That's where Aptitude 8 comes in.
We can support your demand generation lead by helping them identify their audience. We do this by providing them with tools and technology integrations that produce data, and then by helping them understand what that data means for their strategy.
Once your lead has a good understanding of who their audience is, we can help them select which channels to use to speak to them and at which point in the sales and marketing cycle to engage. We'll help them build marketing programs and empower your salespeople with the tools and information they need to close more deals.
We can also provide specialized demand gen services like paid media management, account-based marketing (ABM), sales and marketing alignment, and marketing automation services. Everything we do helps your demand generation lead to build and execute a robust demand generation strategy that supports your revenue goals.
Add SDRs Under Marketing
Many companies skip the sales development process because they believe they can connect marketing qualified leads directly to their salespeople. We recommend you place SDRs beneath your marketing process to help qualify your leads. While this adds another step to your process, it often means the difference between closing a deal and pushing away potential customers.
Additionally, your SDRs will play an important role in validating your demand gen strategy. They'll metrics on the leads they see to determine if your demand generation efforts are producing qualified leads or not. If not, your SDRs can help you pivot away from strategies that aren't working and move toward strategies that generate qualified sales leads.
In this way, SDRs act as a failsafe against a poorly performed lead gen strategy.
Add CRM Resources
Finally, you'll need to add resources from a comprehensive CRM if you want to scale your demand gen efforts. CRMs like HubSpot include data analysis and automation features that make the entire process possible. Without them, your sales and marketing teams won't be able to align their efforts, and they'll be too bogged down by manual processes to scale up their operations.
For example, sending a prospecting email may seem like a simple task. However, without the right tools to customize the email, automate it, and measure the results, this seemingly simple task can become a challenge that affects your entire operation.
CRMs' inherent analytics tools are also essential for refining your demand gen process. You'll be able to track important metrics effortlessly by coordinating your entire demand gen strategy through your CRM. This will also create a single source of truth of data for your entire team, so there's never any confusion or issues with data cleanliness.
Boost Your Demand Gen with A8
You need a broad set of tools, processes, and strategies to support your demand gen efforts. Unfortunately, most companies can't produce the skills and assets they need in-house to produce and scale their demand gen efforts.
Aptitude 8 specializes in marketing automation, technology integration, web development, demand generation strategy, and more. Contact us today to start scaling.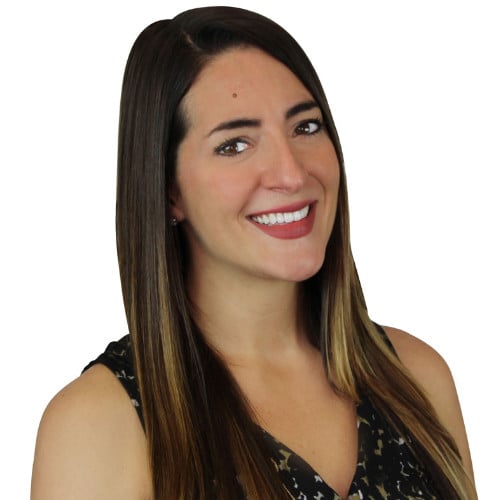 Emily Wingrove
Emily is the Demand Generation practice manager at Aptitude 8. Her team is responsible for providing services to customers on marketing platforms, designing and developing websites and digital marketing assets, and driving growth strategy for Aptitude 8 customers.