As any good salesperson knows, not all leads are created equal.

Sales development was born of the necessity to bridge the divide between leads generated by marketing teams and the salespeople who attempt to close the deal. Without sales development reps (SDRs), companies often struggle to generate demand and qualify leads, so they can sell more effectively.

More importantly, SDRs serve as a necessary link in the sales funnel, ensuring salespeople don't mistakenly engage in redundant or meaningless selling. Instead, they should be able to focus on closing the deal with prospects who are ready to buy.

Indeed, SDRs are the go-to experts for sales prospecting and lead qualification. But building an effective SDR machine is dependent on a few factors, and one of the most important is demand.

Here's how you can build a powerful SDR machine through demand generation.

Build Key Steps into the Demand Gen Lifecycle
Demand generation is somewhat different from general marketing. Whereas activities like content and social media marketing generate awareness of your brand, demand generation drives awareness and interest in your company's products and services.

If you want to fuel your SDR machine with demand gen, you'll need to include a few key steps in your process.

Obtaining Service- and Product-Qualified Leads
Marketers already know how to generate leads. Email campaigns, organic website traffic, pay-per-click ads, and other types of marketing campaigns can generate interest in your products and service and help you build a list of contacts.

But "leads generated" is quickly becoming a vanity metric. While it's true that marketers need to generate a substantial number of leads to be successful, inevitably, most leads will drop off before they're ever considered a potential customer by your salespeople.

Obtaining leads that are interested in your products and services means understanding your customer. You must engage them with sales content that they'll find both interesting and urgent, thus positioning your product or service as an essential solution right when they need it.

Then, it requires a personalized nurturing campaign that will keep them engaged. While marketers must focus on lead gen and salespeople must focus on closing the deal, SDRs are in a unique position to generate demand.

Enable your SDRs so they can qualify leads within your pool of contacts. Give them enough autonomy to nurture leads they find promising and arm them with the tools and technologies they need to do so effectively.

Processing Leads into MQLs
Once they've generated some leads, your representatives can then qualify them based on how they act in response to nurturing activity. Targeted content, personalized emails, and multichannel engagement are all great ways to gauge a prospect's interest.

If they respond to your nurturing activities, they can be designed as marketing-qualified leads (MQLs). These are leads that have shown genuine interest in what your company has to offer. They're more likely to engage in buying activity down the road than other leads, but they aren't quite ready to speak to a salesperson.

Identifying the Best MQLs for Sales
This is where your SDRs can truly shine. They've prospected within your pool of contacts and found some interested leads. Now, they're ready to find out which marketing qualified leads are ready to speak to a salesperson.

Direct emails and calls are often a great way to break the ice. Ideally, your SDRs will be able to directly gauge an MQL's interest through engagement, then set up a meeting with the lead and one of your salespeople.

Scaling Up Demand Gen
Scaling up demand gen means taking the processes and technologies that work and building upon them. For example, you might find success with tactics like lead scoring, but if you're still doing this manually, you'll need to integrate a lead scoring solution into your technology stack to be able to scale up this activity successfully.

Similarly, you need a system that allows for the seamless transfer of information between everyone involved in demand generation, including your marketing team and your sales development reps. If possible, use automation to streamline tedious manual activities like sending mass emails, analyzing contact data, and sorting contacts. This will help your team members focus on more important tasks like formulating strategy and generating personalized content.

Measure the Effectiveness of Sales Development
A great way to determine if your SDR machine is working as well as it could is to measure the productivity of your SDRs and compare them to key sales metrics. For example, your SDRs shouldn't just be generating lots of prospects. They should be generating prospects that are ready to buy and become long-term customers.

Here are a few ways to measure your SDR machine.

Number of Contacts Sequenced
Every contact should be enrolled in a marketing or sales sequence that fits their specific context. Although automation plays an important role here, your SDRs will likely need to make some decisions as to which contacts go into which sequence. They'll also need to build the sequences themselves, deciding how logic within each sequence will sort and channel the contacts.

Ideally, there shouldn't be many contacts stuck in purgatory, waiting to enter a sequence, nor should there be contacts with missing information. Most companies use a CRM or a sales enablement solution to engage in this activity.

Number of Activities Completed
According to HubSpot, there are five essential components of the sales process. These are:

Prospecting
Connecting and qualifying
Researching
Presenting
Handling objections
Closing

Sales development only encompasses two parts of this process: prospecting and connecting/qualifying.

You can measure the productivity of your SDR machine by measuring the number of times your team members engage in these activities regularly and comparing it against other metrics, such as the number of leads your marketing team brings in or the number of deals your salespeople are closing.
Number of Meetings Generated
Meetings, phone calls, and—more and more—virtual meetings are a salesperson's bread and butter. But to generate substantial revenue for the company, salespeople need to have plenty of meetings with hot prospects on the books.

Unfortunately, many salespeople don't have time to engage prospects and arrange such meetings. According to HubSpot, it takes an average of 18 calls just to connect with a buyer.

One way to measure the effectiveness and productivity of your sales development team is to see how many meetings they've generated regularly for your salespeople. Your sales team should spend as little time as possible doing cold outreach, preferably because they have enough meetings on the books with hot leads already.
Build a Successful Sales Development Processes
If your organization struggles with demand generation and sales development, you aren't alone. Many companies are still stuck in the traditional marketing-to-sales paradigm, and they struggle to bridge the disconnect between the two departments.

If you're ready to revolutionize the way you prospect, contact us at Aptitude 8 today. Sales engagement and demand generation are two of our eight practice areas. We can help you build and empower a sales development team that will change the way you do lead gen forever.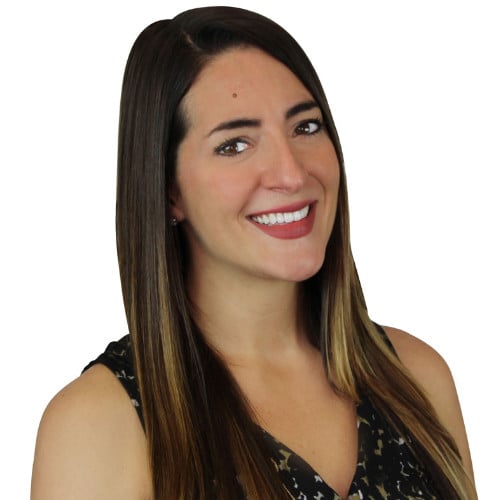 Emily Wingrove
Emily is the Demand Generation practice manager at Aptitude 8. Her team is responsible for providing services to customers on marketing platforms, designing and developing websites and digital marketing assets, and driving growth strategy for Aptitude 8 customers.