HubSpot's Data Quality Command Center is a tool for evaluating possible issues with your properties, records, and data synchronization integrations. HubSpot Professional Enterprise users can use it to identify and target specific problems in their data, then take steps to ensure data is recorded properly moving forward.

The tool even offers trend reports to help data professionals identify systematic issues in how data is saved and uploaded.

But the Command Center also offers an important automated feature that shouldn't be overlooked. You can use it to automatically fix certain data issues relating to name and email address properties. Here's everything you need to know.
Automatically Fixing Record Formatting Issues
In HubSpot, "Records" refers to the specific data points you record within object properties. For example, your "Contact" object may include a property for "Name," and the record within that property may be a specific name like "Brenda."

Operations Hub users can set rules to automatically fix formatting issues in these records, as long as they use a Professional or Enterprise HubSpot account. You can access this capability from the Data Quality Command Center by clicking "Automation" while viewing the Records card.

You can also access this capability by navigating to "Contacts" in HubSpot, then navigating through "Actions>Fix formatting issues>Automation." You should be greeted by an "automation recommendations" display that looks like this: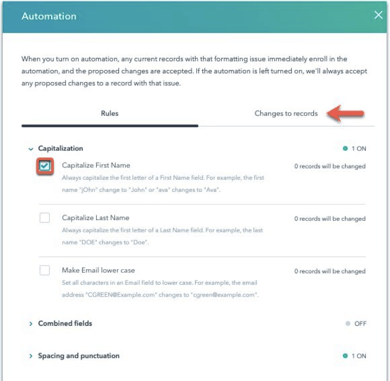 (Source: HubSpot)

On the left-hand panel, you can activate rules that fix some of the most common problems with your records.
For example, you can automatically capitalize first names in First Name fields, which will prevent names with lowercase letters from auto-populating in emails, on your website, and in other places. Naturally, you can also do the same for the Last Name property.

So, if your Name property has been recorded as "brenda," this feature will automatically change it to "Brenda." This may seem like a small change, but it can be significant if you consider the number of names that enter your system on a monthly basis.
If you're concerned about how this will affect your records, you can select "Changes to records" on the right-hand panel to view all the records whose values will be updated by the automated rules. This panel includes drop-down menus that allow you to filter records and find them more easily.
Why Fixing Data Automatically Matters
There are few companies today that aren't inundated with data. Even small businesses need some data tools to manage their operations.

As such, it can be painstakingly difficult to fix issues with your data when they occur regularly. Small problems, like recording names improperly, can lead to larger problems down the road. And if the issue goes on for long enough, you could find yourself having to update countless data points in your system just to remedy the situation.

Fixing errors like these automatically removes the manual processes of doing so. More importantly, it prevents errors from occurring again.
Start Managing Your Data More Effectively with HubSpot
HubSpot's latest features are adding some exciting new functionalities, and it's important to take advantage of them as soon as you can.
Whether you're new to HubSpot or a seasoned user who is just discovering these new capabilities, Aptitude 8 can help you get the most out of the groundbreaking CRM. Contact us at Aptitude 8 today to learn how we can help.