Blogging platforms today are more powerful than ever. Your blogs serve as a place to provide product updates, news, brand awareness, and act as a vital SEO-building tool for your website. However, all blogs are not built equally.
Here, we'll compare three of the most popular website platforms used for blogging and content management. Keep in mind, in this post we're only comparing the blogging functionality and use.

Maintenance
WordPress requires plugins for more functions that are outside of regular blogging. For instance, if you want to publish blogs automatically to social media, send an automated email with blog updates, or add pop-ups to your blog, all will require a third-party plugin.
Plugins, themes, and the WordPress platform need to be regularly updated, and occasionally plugins will be incompatible, leading to website issues. Or, plugins may stop being supported by the plugin author, becoming obsolete with new WordPress updates.
Despite 'technically' being a plugin as well, Elementor is so, so much more than that. A WordPress website builder, Elementor streamlines the process of creating a WordPress site…and blog.
Many of the aforementioned issues WordPress users face in regards to blogs (specifically those pertaining to maintenance) are alleviated when Using Elementor. You can still integrate with a variety of WordPress plugins when you use Elementor. However, with so many built-in features, there's very little reason to, especially when all you need is a blog.
Webflow and Hubspot are simple to manage and do not require any third-party plugins to work. They are automatically updated so there is no real maintenance for the end-user.
Admin & Usability
Across the board, the blogs are all simple enough to create, edit, update, and publish. They all have visual editors that make it easy to build new content.
Webflow may have a higher learning curve, as HubSpot, Elementor and WordPress both offer pretty straightforward CTAs to create a new post, while Webflow requires that you just know where to look. For instance, blogs are actually "Collections" and blog posts are "Items" within those collections. With some training, it's just as easy to publish a blog here, though.
Where Webflow falls behind is in terms of user management. WordPress and Elementor offer different user roles (such as admin, editor, author, and contributor) which allow you to invite writers into your website without giving them enough power to cause any harm. These roles are set by WordPress and cannot be adjusted
Similarly, HubSpot provides user permissions like Publish, Write, and Read-Only that you can control per team member. There is no limit to how many users you can have inside of HubSpot Marketing Hub, so this is a great choice if you have multiple writers you'd like to invite.
It is possible to add collaborators to your Webflow account if you have a CMS plan. However, you cannot adjust their permissions. Content collaborators can edit text, images, and links, but cannot publish. With a CMS plan, you get up to 3 content collaborators; with a Teams plan, you pay by the seat.
Security
Because WordPress functionality relies on third-party plugins, each plugin is an opportunity to become vulnerable to attacks. If a plugin is not properly updated, there may be a security flaw that others can take advantage of.
Elementor features a number of built-in security features aimed at covering these plugin-created potential pitfalls. However, an open-source platform by its very nature will always be more susceptible to security breaches.
Webflow and HubSpot include strong, built-in security that you do not need to manage.
Speed
A fast website is vital for user experience, time on site, and SEO. WordPress website speed depends on how "heavy" it is. When you install too many plugins to add more customization and functionality to a WordPress blog, you'll end up with a slower website.
WordPress sites built with Elementor will always be significantly faster than ordinary WP sites. Adhering to very strict coding standards, Elementor's developers have designed the platform to ensure optimal speed. Those looking to be extra sure that their site is uber fast, can leverage Elementor's native integration with WP rocket.
Webflow has natively integrated the Amazon Cloudfront CDN (Content Delivery Network) which provides the fastest access speeds for website files. To achieve this with WordPress, you'll need to set up (and pay for) this separately.
HubSpot also manages its own globally distributed CDN. Although historically HubSpot blogs have been very heavy, since the introduction of the HubSpot CMS, they are working faster at making improvements. For instance, blogs now allow lazy loading of images, which wasn't possible just a couple of years ago.
Flexibility
Webflow provides the highest level of flexibility for blogs, with the ability to make multiple template types using its intuitive drag and drop editor. You can also create multiple CMS instances - allowing you to make a "blog" type page and entries for job postings, events, different industry blogs, and more.
WordPress provides the ability to create multiple template types, but this requires additional development. However, you can only have one blog. Any additional functionality requires plugins or development.
Elementor's offering in this regard is really interesting. If you're feeling adventurous, you can create your page from scratch, using the Hello Theme (obviously, you won't have to write a single line of code even if you choose this route).
On the other hand, you can choose from hundreds of ready-made templates, including a number of fully-functioning websites. Dubbed Full Site Kits, these designer-made sites can be quickly customized and launched within a matter of a few clicks.
HubSpot only allows one blog index page and one blog template. However, with custom development, more functions are possible using smart content, pop-ups, and CTAs.
Built-In Functionality
HubSpot offers the highest level of out-of-the-box functionality, especially if your marketing and sales are being run out of HubSpot. With minimal setup, HubSpot's blog offers:
WordPress blogs can post to social media and offer better reporting through popular plugins like JetPack. However, many people report that Jetpack and other powerful plugins hurt their site speed and, in turn, their SEO.
Elementor offers a number of built-in features you can leverage to create any type of blog you can imagine. These include its intuitive drag-and-drop editor, and popup and form builders.
Webflow allows you to natively built a lot of elements, like pop-ups, forms, and custom content on mobile. However, most other functionality needs to be achieved with outside services like Zapier or HubSpot Marketing Hub.
Luckily, it's easy to integrate HubSpot Marketing into a third-party blog or website, so you'll be able to embed forms, use CTAs, and build pop-up forms on any platform when you use HubSpot Marketing.
Overall Ranking
Based on the criteria outlined above, here are our overall rankings for blog hosting:
WordPress: 4/10
Webflow: 8/10
Elementor 8.5/10
HubSpot: 9/10
At the end of the day, the blog hosting service you choose depends on your company's needs. Here are the situations in which we would choose each of these three platforms.
When to Choose HubSpot
You want to simplify systems, and you're already using HubSpot Marketing
You want to upgrade your marketing capabilities by investing in HubSpot Marketing
You rely on HubSpot features and reporting and want to easily integrate email, social media, and blogs
You care about SEO and want to use HubSpot's SEO planning tools
You have multiple users or writers who need to be able to access your CMS
You don't have a technical team to lean on for maintenance
You want to host your website on HubSpot CMS
When to Choose Webflow
You want advanced customization for your blog theme
You don't need many users
You need to host multiple blogs or content networks
You care about speed and security above everything else
You are more technical and don't mind needing to watch a few video tutorials
You want to host your website on Webflow
When to Choose WordPress
Your team is already familiar with the platform
You have a technical team to lean on for maintenance and updates
You don't need advanced customization/functionality
You want the most options in terms of themes and plugins
You want to build a community with blog subscribers and commenters
You want a budget-friendly option
You want to host your website on WordPress
‍When to Choose Elementor
You have your heart set on a WordPress website but don't want or can't code
You want a WordPress site but don't want to pay exorbitant hosting fees
You want the benefits of an open-source platform without the pitfalls
Do you need to migrate an existing blog or set up a new one? Or, are you looking to overhaul your website? Our demand gen team are experts in website building and optimization, with a focus on performance and SEO. Check out our website development process and projects to see some of the work we've done.
‍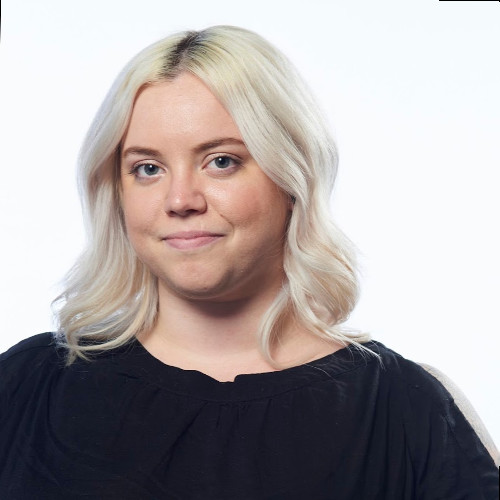 Kaitlynn Sirotkin
Kaitlynn Sirotkin the Director of Growth & Partnerships Aptitude 8. She has been a seller, a Marketing Leader, and has 7+ years of direct RevOps experience helping teams get more out of the tools they live in every day. Kaitlynn's hands on experience has given her the perspective needed to know what RevOps and Demand Gen practitioners care about.