Salespeople and service associates need to be acutely aware of their clients' service level agreements (SLAs) and how well they are complying with them. HubSpot has some outstanding tools for accomplishing this, but it also has its limitations. The Timerman SLA app by A8 labs can help HubSpot users overcome these limitations and more effectively measure their SLA compliance.
In this article, we will break down the importance of SLA compliance and describe some methods for tracking and measuring it. We'll also explore how HubSpot and Timerman SLA work together to improve results.
What is a Service Level Agreement (SLA)?
Within a given contract, the Service Level Agreement (SLA), defines expectations of service typically between an organization's customers, suppliers, or perhaps even between departments within the organization itself.
These service expectations form various service level standards- in which agreeing parties are to participate in. The set of performance measurements that are agreed upon will vary depending on the organization. Whether large or small, they carry massive importance.
Service level standards provide a way to manage expectations and ensure the quality of service is maintained. And as an after-effect, they inevitably support these organizations in identifying needed areas of improvement within their teams' process, thus increasing overall productivity and effectiveness.
What's Included in a Service Level Agreement?
The performance measurement standards that make up a service level agreement will depend on the organization's intended use case, as well as the parties involved.
Some performance measurements include:
Support availability: This metric measures the time that a support team is available to assist customers or clients. It's important to be realistic when setting this number, as you don't want to overpromise and underdeliver your support availability.
Response time: This is the amount of time it takes for your team to respond to a customer/client inquiry. Again, you'll want to be realistic when setting this number, as customers will be expecting a timely response.
Resolution time: This is the amount of time it takes for your team to resolve a customer inquiry. As with response time, you'll want to be realistic when setting this number so that customers don't feel like they're being kept in the dark about the status of their issue.
First contact resolution rate: This metric measures customer inquiries that are resolved on the first contact. This number can be a good indicator of the overall quality of your support team's performance.
Customer satisfaction: This is a measure of how satisfied your customers are with the support they've received. You can survey your customers periodically to gauge their satisfaction levels.
How Do You Track & Measure SLA Compliance?
Salespeople and service associates need to track and measure SLA compliance for two main reasons.
First, it allows them to identify areas where the company is not meeting the customer's expectations. This information can then be used to make changes to improve the level of service that the company provides.
Second, measuring SLA compliance can help salespeople and service associates to identify areas where they need to provide more training or support to employees. This information can then be used to improve the quality of service that employees are providing.
Measuring SLA compliance can be challenging without the right tools. Most organizations judge the status of their SLAs by looking at the number of customer complaints that are being filed, analyzing feedback surveys, or monitoring the number of times a product or service has been returned or refunded.
But if you operate a robust ticketing system, such as with software sales, it's important to get more granular in your analysis. That's where HubSpot's SLA compliance tools and apps like Timerman SLA come in.
Hubspot's Service Hub
SLA management tools are traditional to client-facing teams such as service and support teams. This means they track performance through tickets and ticket stages. HubSpot offers its own SLA management tool for Service Hub professional tier users.
However, HubSpot limits you to only three SLA policies based on priority levels native to HubSpot. HubSpot's SLA statuses are only visible in HubSpot's Conversations function, so they will not apply to tickets unless each ticket is connected to a conversation within your inbox.
Finally, HubSpot's SLA management tool only creates four ticket properties in your account. These are Time to Close SLA Due Date, Time to Close SLA Ticket Status, Time to First Response SLA Due Date, and Time to First Response SLA Status.
A8 Lab's Timerman SLA
A8 Lab's Timerman SLA tool is an SLA policy and deal velocity tool for HubSpot. It offers some key benefits over HubSpot's integrated SLA management tools.
First, Timerman allows you to create an unlimited number of customized SLA policies (dependent upon your Timerman tier).You can then apply SLA policies to any ticket or deal, even if you don't have a Conversation attached via your inbox.
Timerman also has over 12 different ticket properties.These are useful if you need more information such as the amount of time a ticket spends in each stage. Once you install the tool, it will automatically create deal and ticket properties within your HubSpot account that allow you to generate powerful dashboard reports.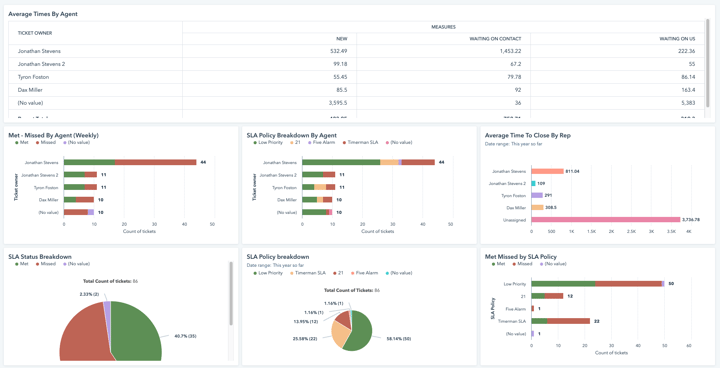 (Source: HubSpot Ecosystem Marketplace)
In your Tickets section, Timerman creates a CRM card so you can view SLA details about specific tickets and deals. Most importantly, it shows you whether the SLA status was met for that particular ticket, as it pertains to the deal.
(Source: HubSpot Ecosystem Marketplace)
For example, you can use it to view the priority level of tickets as they pertain to your SLA policy. It also presents time targets for the first response to and closing of the ticket, as well as time summaries for addressing the ticket, and more.
Get Started with Timerman SLA from A8 Labs
Timerman gives you more options for SLA compliance tracking, and it provides you with information that is much easier to understand and report. This makes it a must-have tool for any company that's serious about SLA compliance.
To get more information about Timerman SLA, read more about it on the HubSpot App Marketplace. You can also watch this instructional video to see how it works.
As always, don't hesitate to schedule a call with us at Aptitude 8. We can do a complete analysis of your current SLA policies, as well as your ability to comply with and measure them.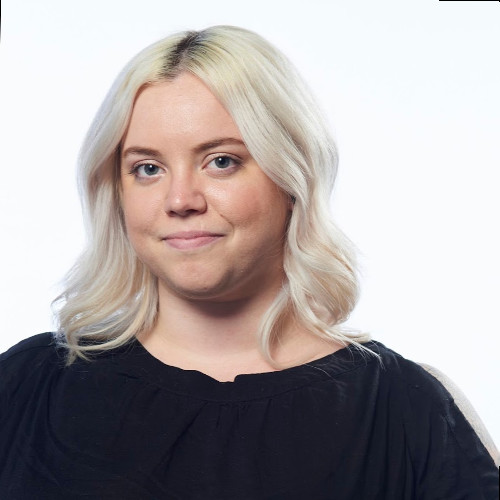 Kaitlynn Sirotkin
Kaitlynn Sirotkin the Director of Growth & Partnerships Aptitude 8. She has been a seller, a Marketing Leader, and has 7+ years of direct RevOps experience helping teams get more out of the tools they live in every day. Kaitlynn's hands on experience has given her the perspective needed to know what RevOps and Demand Gen practitioners care about.